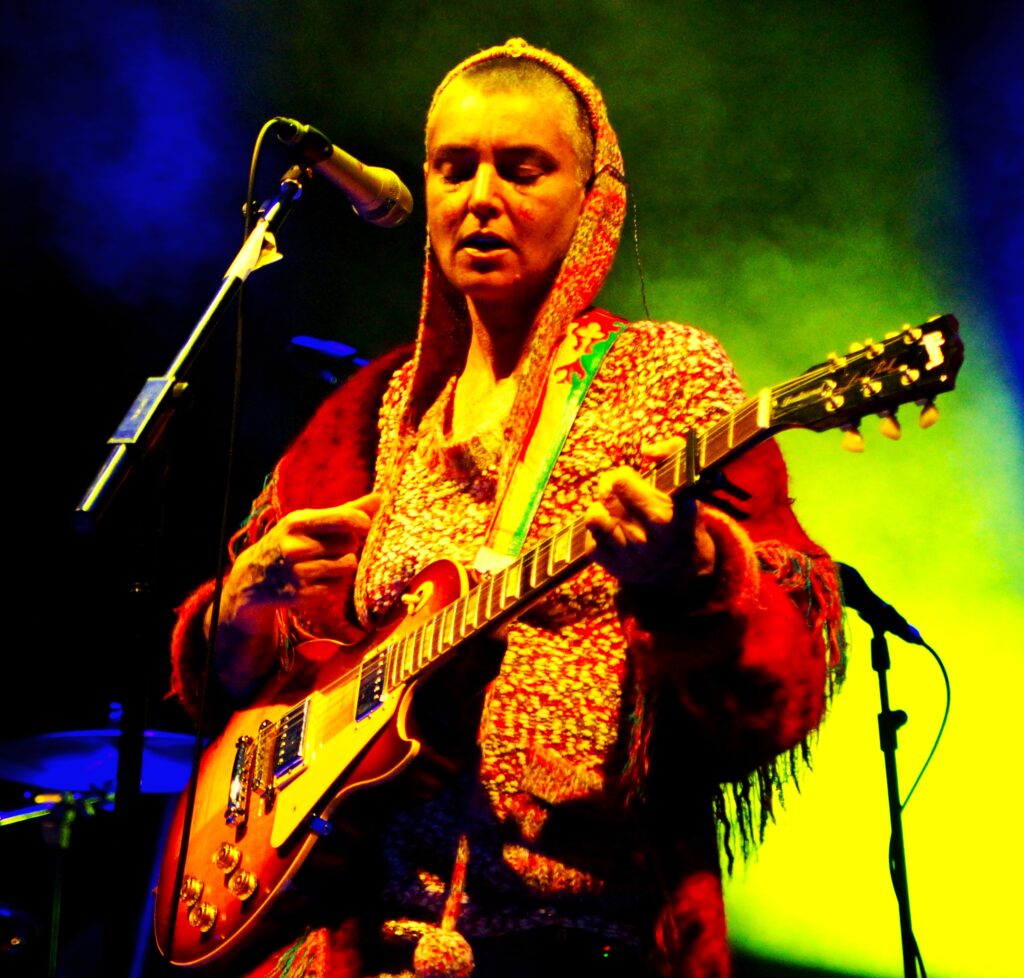 Irish singer Sinéad O'Connor's expressive cover of the ballad Nothing compares 2 U, originally composed by Prince for his 1985 album The Family, turned into a worldwide hit in 1990. The song, which explored the pain of separation, received platinum and gold album awards in numerous countries and became O'Connor's biggest hit. Her album I Do Not Want What I Haven't Got (featuring Nothing compares 2 U) was one of the world's best selling albums of 1990 and was nominated for four Grammys. Sinéad spent parts of her youth in boarding schools and busking locally. At age 20, she moved to London and released her debut album The Lion and the Cobra, which went certified gold in the United States in 1987.
In 1992, she appeared on the popular U.S. sketch comedy show Saturday Night Live where famously she drew attention to sexual abuse in the Catholic Church by tearing up a picture of the Pope on live national television. Some of her songs explored her experiences with abuse as a child and denounced war. Sinéad also publicly campaigned for women's rights and especially the right to abortion in Ireland. Together with musicians from the bands Coldplay, Led Zeppelin, One Direction, Queen, U2, and others, she took part in Bob Geldof's Band Aid 30 project in 2014 to raise funds to combat the Ebola epidemic in West Africa. The documentary Nothing Compares, about her life and career, directed by Kathryn Ferguson, was released in 2022 and received two British Independent Film Awards (BIFA).
In Sinéad's final interview in 2023, she discussed how in childhood she realized the power of music and her voice. As she described, "My first musical memory is my father singing to me [the folk ballad] Scarlet ribbons. I just remember being blown away . . . lying on my pillow and my dad singing this song to me. I was like, 'Oh my God, the angels came in the window.' My mother was a very violent woman, not a healthy woman; she was physically, verbally, psychologically, spiritually, and emotionally abusive. My mother was a beast. And I was able to soothe her with my voice. I was able to use my voice to make the devil fall asleep."
Sinéad O'Connor passed away in London on 26 July 2023. Read her obituary in MGG Online and stay tuned for a full article.
Listen to Don't give up, recording that features O'Connor with Willie Nelson below.