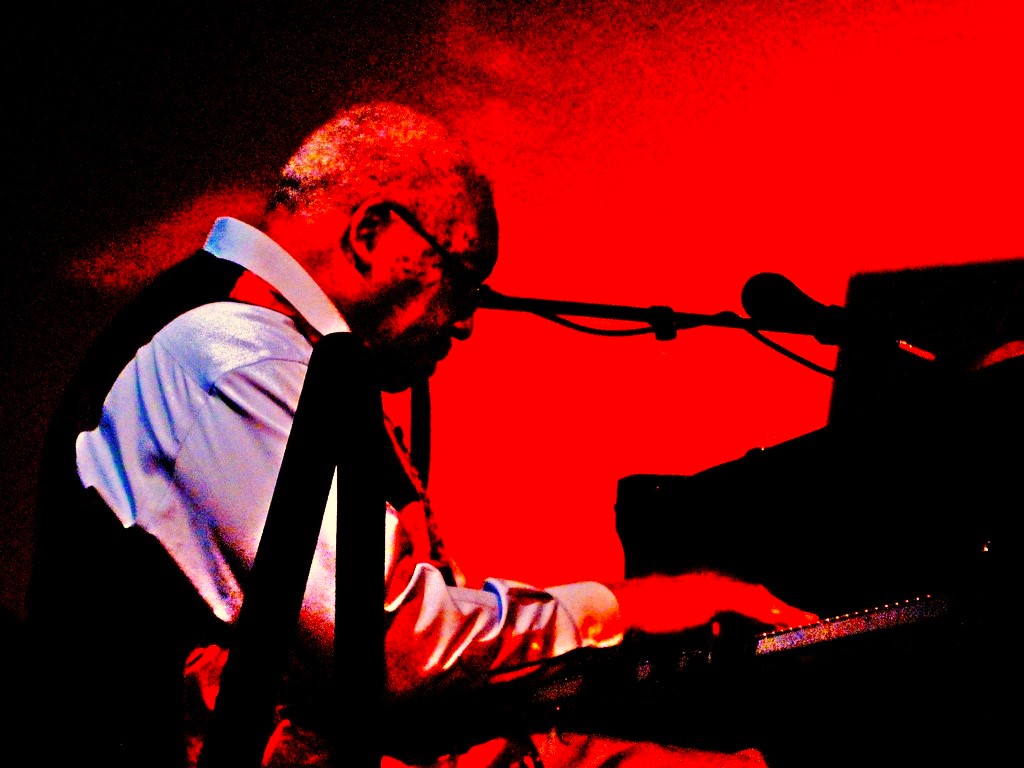 Ellis Marsalis first learned to play the clarinet and saxophone but the piano later became his main instrument. From 1951 to 1955, he completed a bachelor's degree in music education at Dillard University in New Orleans while receiving informal jazz lessons from saxophonist Harold Battiste. Together with Battiste, Marsalis performed as a pianist in the American Jazz Quintet, which also included clarinetist Alvin Batiste and drummer Ed Blackwell. The ensemble's first recordings were made in 1956 in Cosimo Matassa's recording studio in New Orleans, and during his subsequent military service in the United States Marine Corps, Marsalis performed with a show band as part of the CBS television show Dress blues and the radio show Leatherneck songbook. Among the guest musicians were the already well-known drummer Chico Hamilton and bass clarinetist Eric Dolphy. After completing military service in 1959, Marsalis returned to New Orleans and married Dolores Ferdinand, with whom he had six sons; four of them achieved successful careers as jazz musicians: the saxophonist Branford, trumpeter Wynton, trombonist Delfeayo, and drummer Jason.
Marsalis played regularly in various local New Orleans clubs and recorded the 1962 album In the bag with the trumpeter Nat Adderley, alto saxophonist Julian "Cannonball" Adderley, tenor saxophonist Nat Perriliat, bassist Sam Jones, and drummer James Black. In 1966, Marsalis appeared as a soloist with the New Orleans Symphony Orchestra performing his own compositions. Throughout the 1960s and 1970s he worked with several ensembles in New Orleans, including from 1967 to 1970 with the band of trumpeter Al Hirt. In 1978, Marsalis released his first album as a solo pianist and accepted an engagement at the Hyatt Regency Hotel in New Orleans, which lasted until 1980. Ellis Marsalis can be heard as a guest musician on the recording of a concert by his son Wynton with drummer Art Blakey's band. The album Fathers & sons, recorded in New York in 1982, features Ellis together with Wynton and Branford—the first of several collaborations with his sons.
Besides working as a musician, Ellis Marsalis also was the director of the jazz studies program at the University of New Orleans. He also taught at Xavier University, Loyola University, and the New Orleans Center for Creative Arts. In 2007, he spoke about why New Orleans has provided a unique musical space for jazz to flourish. According to Marsalis, "I think that New Orleans is the best learning town in the country, if not the world, as far as jazz is concerned. The nature of the economy here, as well as the laws that have been established over many years, make it conducive for musicians to work. Anyplace where you have the legal means to party to excess, the opportunities for certain types of musicians increase. Now, we don't have Carnegie Hall; we don't have Lincoln Center; we don't have Alice Tully; the Metropolitan is not here–all those things which attract huge orchestras. You see, we as a city cater to people who come in with a slightly different kind of budget . . . People who want food and music and a good time will come to New Orleans because it's rather difficult to find what you can find here if you go to Little Rock, Arkansas, or Jackson, Mississippi."
From 1990 onwards Marsalis increasingly began to release albums under his own name on major labels with a wide international reach including Blue Note, Columbia, and Verve. He also produced recordings as a solo pianist and bandleader and took part in various productions as an ensemble member or guest musician. As part of his regular appearances at the New Orleans Jazz and Heritage Festival, Marsalis played with his sons and a host of established guest musicians.
Read the feature on Ellis Marsalis in MGG Online.
Below, Ellis Marsalis performs with his sons in New Orleans in 2001 and performs "Twelves it" in 2018.
Related previous posts in Bibliolore: