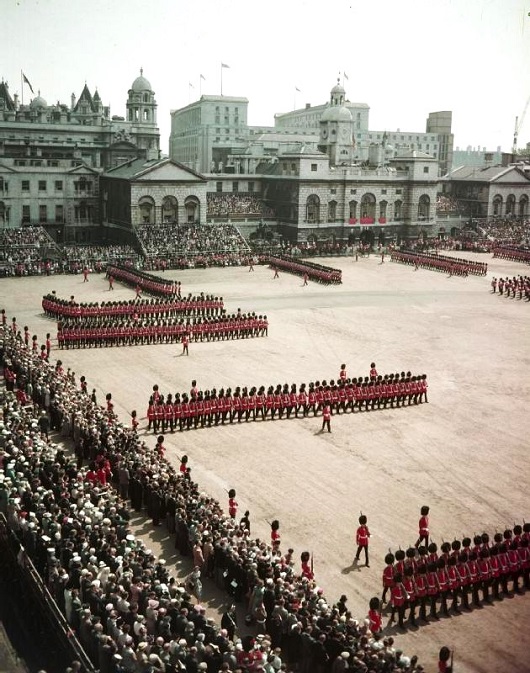 Since 1748 the British Monarch's official birthday has been celebrated by an event called Trooping the Colour. The main musical participants in the event are the bands of the Household Cavalry and the Foot Guards (the Grenadier and Coldstream Guards and the Scots, Irish, and Welsh Guards).
The music for the event depends both on the repertory of the regiment whose color is being trooped and on a range of traditional works. One of the most venerable among them, known simply as Les Huguenots, consists of a medley of three sections from Meyerbeer's 1836 opera: The Lutheran chorale Ein feste Burg, the main theme from the Bénédiction des poignards, and an instrumental version of the stretta from the act 1 finale. The tradition of performing Les Huguenots goes back to 1871.
This according to "Guns and roses: Meyerbeer now and then" by Mark Everist, an essay included in Meyerbeer and grand opéra: From the July monarchy to the present (Turnhout: Brepols, 2016 ix–xxiii; RILM Abstracts of Music Literature 2016-29408).
Today marks King Charles III's first Trooping of the Colour as Sovereign!
Above, Trooping the Colour in 1956; below, Trooping the Colour in 2022 (Les Huguenots begins around 1:55).