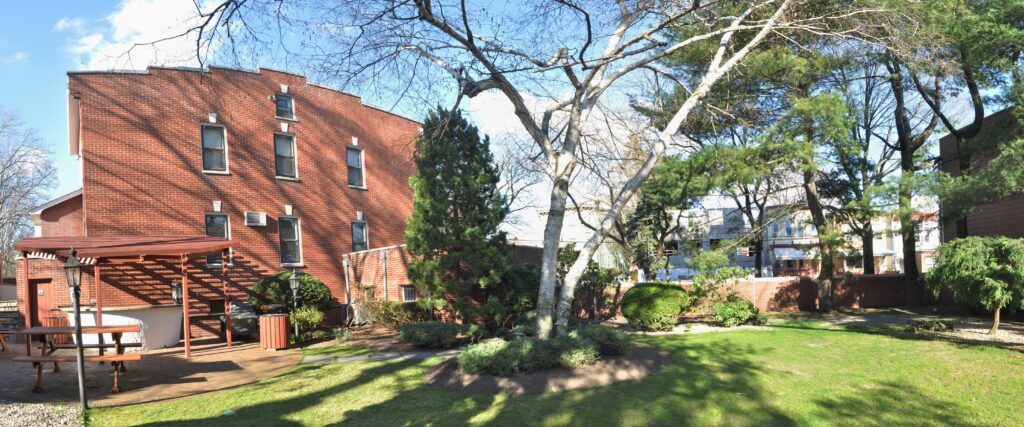 Last year, I visited New Orleans, the birthplace of jazz music and the legendary Louis Armstrong (1901-1971). Known as the "Father of Jazz," Armstrong began his musical journey in New Orleans and later moved to Chicago and New York. Through his tours, Armstrong also brought jazz music to audiences worldwide.
Upon returning to New York, I discovered that the Louis Armstrong House was in the nearby Corona neighborhood in the borough of Queens. Coincidentally, an extension of the House, the Louis Armstrong Center had just opened, so I decided to explore it.
Corona is a working-class community, and it's quite unusual for a celebrity like Louis Armstrong to have lived there. It's worth noting that by that time, Armstrong had already achieved a high social status, so his residence in Corona was somewhat unique. I learned from the guide that Armstrong's wife, Lucille, grew up in Corona and had purchased the house before they got married. Lucille had initially planned to move to a different house after their marriage, but Armstrong had a special affection for this place. He liked it because it wasn't as formal as upscale neighborhoods, and at the same time, it offered him a good amount of privacy.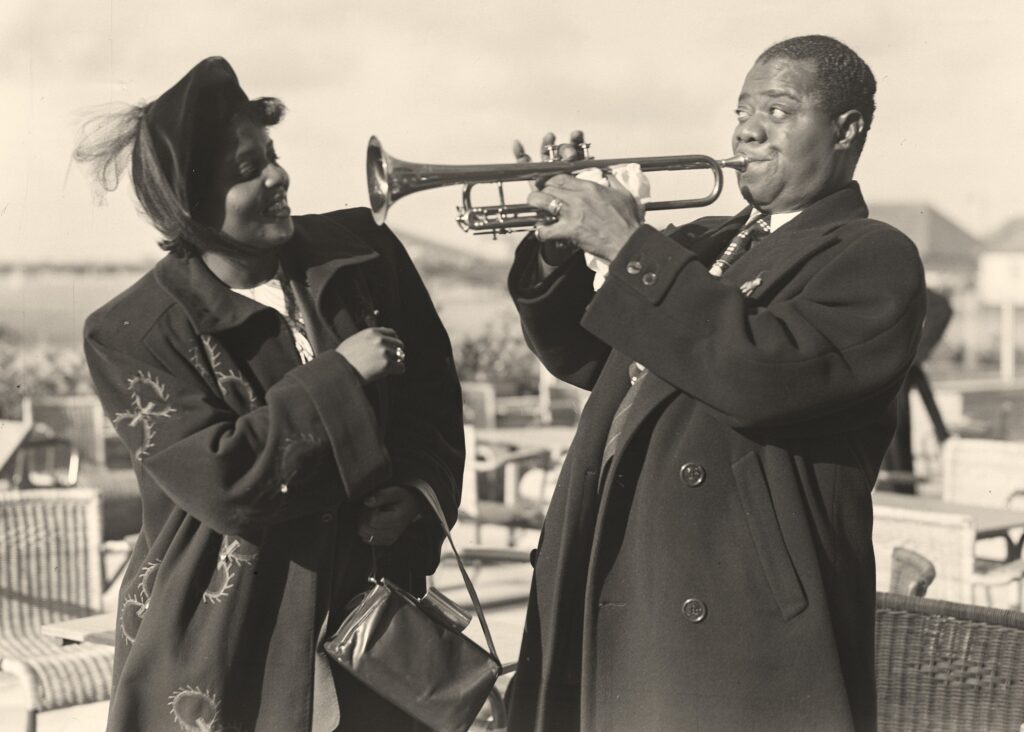 The Armstrong couple lived here for over twenty years, right up until Louis Armstrong passed away in 1971. Influenced by Armstrong, another renowned jazz musician, Dizzy Gillespie, later moved to this community as well.
Today, the Louis Armstrong House continues to contribute to the cultural life of the community. There are regular outdoor concerts in the yard during the summer, and across from the residence, inside the Louis Armstrong Center, there is a performance space where concerts will be held after summer.
Armstrong rose to fame in his early years as a trumpet player, but later became a renowned jazz singer with his distinctive gravelly voice, even winning the Grammy Award for Best Male Vocal Performance in 1965. Armstrong had a famous song called What a wonderful world, and he mentioned in an interview that he often felt this way while living in hisj Corona home.
Coincidentally, he had a Chinese painting in his home depicting four musicians playing the xiao, pipa, guqin, and sheng, along with a dancer. The accompanying poem reads, "A fairyland on earth exists; why search for Penglai (a place in Chinese mythology where immortals live)?" The sentiment of this artwork aligns with the message of What a wonderful world. Armstrong never visited mainland China, but he did visit Hong Kong, and it is possible that he acquired this painting during this visit in 1963.
Research on Armstrong is abundant, but it seems there has not been much study on this Chinese painting in his possession. If Chinese scholars are interested in researching Armstrong, this painting could serve as an excellent starting point. However, before embarking on this study, it's advisable to consult existing literature. Below are ten English books about Louis Armstrong that are included in Répertoire International de Littérature Musicale (RILM) Abstracts for reference.
–Written and compiled by Mu Qian, Editor, RILM.
Armstrong, Louis. Swing that music (New York: Da Capo, 1993). [RILM Abstracts of Music Literature, 1993-3006]
Abstract: English: Originally published in 1936 (London: Longmans; New York: Green), this is Louis Armstrong's first autobiography and the first autobiography by a jazz musician in history. Armstrong's life living in the South Side of Chicago with "King" Oliver, his marriage to Lil Hardin, moving to New York in 1929, forming his own band, European tours, and the success he achieved internationally are chronicled.
Armstrong, Louis. Satchmo: My life in New Orleans (New York: Prentice-Hall, 1954). [RILM Abstracts of Music Literature, 1954-00411].
Abstract: "In all my whole career the Brick House was one of the toughest joints I ever played in. It was the honky-tonk where levee workers would congregate every Saturday night and trade with the gals who'd stroll up and down the floor and the bar. Those guys would drink and fight one another like circle saws. Bottles would come flying over the bandstand like crazy, and there was lots of just plain common shooting and cutting. But somehow all that jive didn't faze me at all, I was so happy to have some place to blow my horn". So says Louis Armstrong, a tough kid who just happened to be a musical genius, about one of the places where he performed and grew up. This raucous, rich tale of his early days concludes with his departure to Chicago in August 1922 to play with his boyhood idol King Oliver. Armstrong was a man of minimal formal education who was born on a dirt street in the poorest section of New Oreleans, very close to the House of Detention. From the age of five until his departure for Chicago he lived mostly at Liberty and Perdido in the heart of the black vice district–a world of pimps, hustlers, prostitutes, saloons, and gambling joints. His unique mix of personal attributes–toughness, sensitivity, drive, and strength of character–helped make possible a truly inspiring rags-to-riches story told by a discerning critic of human nature.
Cogswell, Michael. Louis Armstrong: The offstage story of Satchmo (Portland: Collectors, 2003). [RILM Abstracts of Music Literature, 2003-03459].
Abstract: A pictorial biography of the jazz musician, much of which is drawn from the Louis Armstrong House and and the associated archives at Queens College (Flushing, New York).
Willems, Jos. All of me: The complete discography of Louis Armstrong (Lanham: Scarecrow Press, 2006). [RILM Abstracts of Music Literature, 2006-01901].
Abstract: Listing of all known recordings, both studio and live performances of the jazz musician. Entries include a complete description of the recording session, the date, its location, the personnel involved, titles of tunes, and lists of commercial releases in various formats.
Collier, James Lincoln. Louis Armstrong: An American genius (New York: Oxford University Press, 1983). [RILM Abstracts of Music Literature, 1983-01371].
Abstract: To millions of fans, Louis Armstrong ("Satchmo") was just a great entertainer. But to jazz aficionados, he was one of the most important musicians of our times–not only a key figure in the history of jazz but a formative influence on all of 20th-century popular music. Set against the backdrop of New Orleans, Chicago, and New York during the Jazz Age, the saga of an old-fashioned black man making it in a white world is re-created. Armstrong's rise as a musician is chronicled, along with scrapes with the law, his relationships with four wives, and frequent relationships with fellow musicians including Fletcher Henderson, Earl Hines, and Zutty Singleton. Light is also shed on Armstrong's endless need for approval, his streak of jealousy, and perhaps most important, what some consider his betrayal of his gift as he opted for commercial success and stardom.
Riccardi, Ricky. Heart full of rhythm: The big band years of Louis Armstrong (New York: Oxford University Press, 2020). [RILM Abstracts of Music Literature, 1983-01371].
Abstract: Nearly 50 years after his death, Louis Armstrong remains one of the 20th century's most iconic figures. Popular fans still appreciate his later hits such as <Hello, Dolly!> and <What a wonderful world>, while in the jazz community, he remains venerated for his groundbreaking innovations in the 1920s. The achievements of Armstrong's middle years, however, possess some of the trumpeter's most scintillating and career-defining stories. But the story of this crucial time has never been told in depth, until now. Between 1929 and 1947, Armstrong transformed himself from a little-known trumpeter in Chicago to an internationally renowned pop star, setting in motion the innovations of the swing era and bebop. He had a similar effect on the art of American pop singing, waxing some of his most identifiable hits such as <Jeepers creepers> and <When you're smiling>. However, as this book shows, this transformative era wasn't without its problems, from racist performance reviews and being held up at gunpoint by gangsters to struggling with an overworked embouchure and getting arrested for marijuana possession. Utilizing a prodigious amount of new research, the author traces Armstrong's mid-career fall from grace and dramatic resurgence. Featuring never-before-published photographs and stories culled from Armstrong's personal archives, the book tells the story of how the man called "Pops" became the first "King of Pop". An excerpt is cited as RILM 2020-61930.
Riccardi, Ricky. What a wonderful world: The magic of Louis Armstrong's later years (New York: Pantheon, 2011). [RILM Abstracts of Music Literature, 2011-04068].
Abstract: A comprehensive account of the final 25 years of the life and art of one of America's greatest and most beloved musical icons. Much has been written about Louis Armstrong, but the majority of it focuses on the early and middle stages of his long career. This in-depth look at the years in which Armstrong was often dismissed as a buffoonish, if popular, entertainer, demonstrates instead the inventiveness and depth of expression that his music evinced during this time. These are the years (from after World War II until his death in 1971) when Armstrong entertained crowds around the world and recorded his highest-charting hits, including <Mack the knife> and <Hello, Dolly!>; years when he collaborated with, among others, Ella Fitzgerald, Duke Ellington, and Dave Brubeck; years when he recorded with strings and big bands, and, of course, with the All Stars, his primary recording ensemble for more than two decades. During this period, Armstrong both burnished and enhanced his legacy as one of jazz's most influential figures.
Armstrong, Louis. Louis Armstrong in his own words: Selected writings (New York: Oxford University Press, 1999). [RILM Abstracts of Music Literature, 1999-05124].
Abstract: Drawn from the archives of the master trumpeter, band leader, and entertainer, a collection of ARMSTRONG's own writings presents his life as a musician, entertainer, civil rights activist, and cultural icon. These writings, many of which were previously unpublished, include some of his earliest letters, personal correspondence with one of his first biographers during 1943 and 1944, autobiographical writings, magazine articles, and essays. This work presents the jazz musician's own thoughts on his life and career–from poverty in New Orleans to playing in the famous cafes, cabarets, and saloons of Storyville; from his big break in 1922 with the King Oliver band to his storming of New York; from his breaking of color barriers in Hollywood to the infamous King of the Zulus incident in 1949; and finally, to his last days in Queens, New York. In his writings ARMSTRONG recorded revealing portraits of his times and offered candid, often controversial, opinions about racism, marijuana, bebop, and other jazz artists such as Jelly Roll Morton and Coleman Hawkins.
Berrett, Joshua. The Louis Armstrong companion: Eight decades of commentary (New York: G. Schirmer). [RILM Abstracts of Music Literature, 1999-05125].
Abstract: An anthology compiled using the rich resources of the Armstrong Archives, including Armstrong's autobiographical writings from the 1920s, letters to friends and family, interviews with others about Armstrong, and more, many of which have never been published. The reprints articles, interviews, and reviews stem from 1927 to 1999.
Meckna, Michael. Satchmo: The Louis Armstrong encyclopedia (Westport: Greenwood, 2004). [RILM Abstracts of Music Literature, 2004-07292].
Abstract: Details every aspect of Armstrong's life and music, along with a discography, chronology, film listings, a guide to online resources, a bibliography about Armstrong, and more.