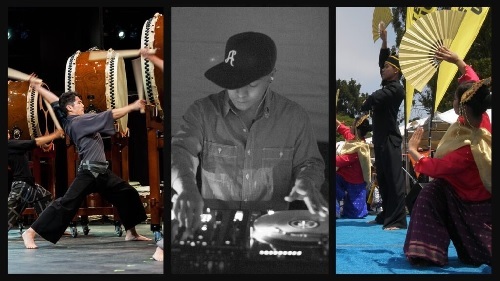 The term "Asian American" refers to people of Asian descent who have settled in North America beginning in the mid-18th century. Encompassed within the term is a wide range of ethnic groups and immigrant experiences stretching from Japan, Korea, and China, to India, the Philippines, Vietnam, and the Middle East. The earliest Asian immigrants were Chinese, Japanese, Filipinos, and South Asians who came for economic reasons and worked on building the railroads or in agriculture. Subsequent waves of migration since the 1960s have included refugees escaping from political conflict in countries such as Korea, Vietnam, Cambodia, Iran, and Afghanistan. Laws passed in the United States such as the Chinese Exclusion Act of 1882 and the Asian Exclusion Act of 1924, which barred further immigration from Asia, and Executive Order 9066, which facilitated the relocation of Japanese Americans to internment camps during World War II, highlight instances where Asian immigrants encountered racism and segregation. Many have overcome such challenges by maintaining connections with their homelands, especially through music, dance, and the dramatic arts.
The diversity of social classes and ethnic heritages of Asians in North America are represented in a wide range of performance traditions. Using the term Asian American music, for instance, has been highly contested and can refer to any music made by Asian Americans or simply music made about the Asian American experience (Wong 2004). Some artists have voiced concerns about the phrase "Asian American music" suggesting it could be essentializing or implies a unified aesthetic. Dance scholars have made the case for establishing Asian American dance as a critical field of inquiry bringing topics of Asian American studies into dialogue with dance studies. By interrogating issues of racial belonging and identity, citizenship, and model minority stereotypes in the context of dance, the field offers a framework for Asian American embodiment.
The scope of Asian American music and performance also has a historical component given the different waves of migration. Early Chinese immigrants of the 18th century brought to North America their love of Cantonese opera and narrative song traditions often heard in the Chinatowns that emerged in cities across the continent. From 1890 to 1924, Japanese immigrants brought various folk, popular, and classical music and dance to places such as California and Hawai'i. After 1965, the constituency of Asian America was transformed by an influx of different types of migrants including laborers from the Philippines, China, and Japan, war refugees (Vietnam, Laos, Afghanistan), and educated professionals and wealthy entrepreneurs from across Asia.
Active scenes for various genres of Asian music and dance emerged along with newer styles blending Asian and Western musical elements. The establishment of San Jose Taiko in the context of the 1960s Asian American political movement opened a space of racial consciousness even as it forced dancers, choreographers, and musicians to navigate the external pressures of representing the often essentialized ideals of Asian America. Some immigrant musicians enthusiastically learned instruments such as piano and violin and became active in Western art music, citing it as a form of social capital that could lead to upward mobility. Others immersed themselves in jazz and hip hop, creating new experimental genres. Today, Asian Americans are singer-songwriters, metalheads, rappers, and performance artists as well as butoh dancers, taiko performers, and bhangra musicians. Each of these shifting artistic identities has contributed to the nuanced complexity of representation that comprises Asian American music and dance.
The following bibliography represents selected texts taken from RILM Abstracts of Music Literature that enhance our knowledge of music, dance, theater, and Asian American experiences. It comprises publications that detail varying perspectives, genres, mediums, and activities.
Written and compiled by Russ Skelchy, Associate Editor, RILM
_________________________________________
Baily, John and Asif Mahmoud. Tablas and drum machines: Afghan music in California (London: Goldsmiths College, 2005, motion picture). [RILM Abstracts of Music Literature, 2005-17147]
Abstract: A film exploring the musical life of the Afghan community in Fremont, California, with particular attention to issues of cultural identity.
Bryant, Lei Ouyang. "Performing race and place in Asian America: Korean American adoptees, musical theatre, and the land of 10,000 lakes", Asian music: Journal of the Society for Asian Music 40/1 (winter–spring 2009) 4–30. [RILM Abstracts of Music Literature, 2009-344]
Abstract: The Walleye kid: The musical, written by R.A. Shiomi and Sundraya Kase with music and lyrics by Kurt Miyashiro, was one of two musical productions incorporating themes of transracial and transnational adoption staged in the Twin Cities in the spring of 2005. The musical, produced by the Minneapolis-based Asian American theater company Mu Performing Arts, follows a young Korean American adoptee's journey of self-discovery while adjusting to life in rural, white Minnesota. The production is used as a case study to examine the creative processes used in contemporary Asian American artistic expression, the Korean American adoption experience in Minnesota, and the use of the musical theater to express complex issues surrounding the transnational adoption experience.
Cayari, Christopher. "The education of Asian American music professionals: Exploration and development of ethnic identity", Bulletin of the Council for Research in Music Education 228 (spring 2021) 7–24. [RILM Abstracts of Music Literature with Full Text, 2021-3584]
Abstract: Asian American people make up approximately 5.8% of the U.S. population (U.S. Census Bureau, 2019) and pursue careers in a variety of musical professions. However, a monoracial view of Asian Americans that conceives of all Asian Americans as a homogenous group without regard to ethnicity or cultural background has led to widespread stereotypes. The desire to acculturate to U.S. culture and Western European art music ideals can pressure Asian Americans to play certain instruments, restrict their involvement to areas of music, or force them to portray their ethnicity in offensive ways. This study looked at the racial and ethnic identity development of nine Asian American music professionals from various career paths in education, performance, curation, and history through a Web survey and subsequent semistructured interviews. Findings pertained to the musical upbringing of participants both inside and outside of school, the social contexts that affected participants' musical endeavors, pressures from dominant cultures that participants faced while in school and during their careers, and the actions participants took in their careers that were a result of growing up as Asian Americans in various music learning contexts (e.g., school, community, familial, and informal).
Chambers-Letson, Joshua. A race so different: Performance and law in Asian America (New York: New York University Press, 2013). [RILM Abstracts of Music Literature, 2013-29192]
Abstract: Taking a performance studies approach to understanding Asian American racial subjectivity, the author argues that the law influences racial formation by compelling Asian Americans to embody and perform recognizable identities in both popular aesthetic forms (such as theater, opera, or rock music) and in the rituals of everyday life. Tracing the production of Asian American selfhood from the era of Asian Exclusion through the Global War on Terror, the book explores the legal paradox whereby U.S. law apprehends the Asian American body as simultaneously excluded from and included within the national body politic. The last chapter examines the group Dengue Fever and the racialization of Cambodian-America.
Hong Sohn, Stephen. "Calculated cacophonies: The queer Asian American family and the nonmusical musical in Chay Yew's Wonderland", The journal of American drama and theatre (JADT) 29/1 (fall–winter 2017) 20p. [RILM Abstracts of Music Literature, 2017-50880]
Abstract: Chay Yew's productions commonly address queer Asian American experiences and associated themes, including the struggle to survive amid hostile familial ties and exclusionary social contexts. This article explores such issues through an extended analysis of Wonderland, a dramatic production involving four roles. Three of the roles—a Man, a Woman, and a Son—comprise an Asian American nuclear family. The fourth figure, a Young Man, is revealed to be playing the Son as an adult. Each role bears the burden of expanding the audience's vision to include the queer Asian American as part of a domestic social construct that better integrates non-normative sexualities as part of its core foundation. The article shows how Wonderland diagnoses this problem through its thematic depictions and offers an intriguing intervention through its deployment of form—what Yew describes as a "nonmusical musical". I investigate the "nonmusical musical" as a quintessentially queer racial performance form that employs what I term as calculated cacophonies, which elucidates how Wonderland uses dialogic, sonic, and thematic relationalities to undercut the portrayed destruction of the Asian American family. The presence of calculated cacophonies allows Wonderland to spotlight some guarded optimism: there may be a sustained possibility for the queer Asian American son to find a place in the heteronuclear family.
Liu, Sissi. "'Kungfu/jazz' as a new approach to music theatre making: Fred Ho and 'manga opera'", Studies in musical theatre 11/2 (2017) 197–214. [RILM Abstracts of Music Literature with Full Text, 2017-35087]
Abstract: Kung fu and jazz—performing art forms that originated from the racial others—will be used as shorthand for two concurrent, interdependent, and dialectically opposing cultural processes: one that prioritizes boundary formation or reinforcement, and one that favors boundary elimination or crossing. The processes of kung fu and jazz are analyzed in the case of Ho's Voice of the dragon (2006), and the paradoxical process of negotiating between the two are explored in Ho's creation of a new genre, manga opera. I propose that in a world of increasing global encounters, racial and ethnic multiplicities, and political and cultural complexities, kung fu/jazz provides a politically progressive and transgressive approach to the process of boundary-conscious musical theater-making.
Nguyen, Mimi Thi and Thuy Linh Nguyen Tu. Alien encounters: Popular culture in Asian America (Durham: Duke University Press, 2007). [RILM Abstracts of Music Literature, 2007-17171]
Abstract: Showcases innovative directions in Asian American cultural studies by exploring topics ranging from pulp fiction to multimedia art and import-car subcultures. Contributors analyze Asian Americans' interactions with popular culture as both creators and consumers. The volume reflects post-1965 Asian America paying nuanced attention to issues of gender, sexuality, transnationality, and citizenship, while unabashedly taking pleasure in pop culture. Issues of cultural authenticity are raised by addressing Asian American participation in hip hop and jazz, the emergence of an orientalist "Indo-chic" in U.S. youth culture, and the circulation of Vietnamese music variety shows. Taking popular culture seriously reveals how people imagine and express their affective relationships to history, identity, and belonging.
Sharma, Nitasha Tamar. Hip hop desis: South Asian Americans, Blackness, and a global race consciousness. Refiguring American music (Durham: Duke University Press, 2010). [RILM Abstracts of Music Literature, 2010-5669]
Abstract: Explores the worldviews of young U.S. people of South Asian descent (self-identifying as Desis) who create hip hop music. Through their lives and lyrics, hip hop Desis express a global race consciousness reflecting both their sense of connection with Black Americans as racialized minorities in the U.S. and their diasporic sensibility as part of a global community of South Asians. The author emphasizes the role of appropriation and sampling in the ways that hip hop Desis craft their identities, create art, and pursue social activism. Some of the Desi artists at the center of her ethnography produce what she calls ethnic hip hop, incorporating South Asian languages, instruments, and immigrant themes. Through ethnic hip hop, Desi artists such as KB, Sammy, and Bella Deejay express alternative desiness, challenging assumptions about their identities as South Asians, children of immigrants, minorities, and U.S. people. Desi artists also contest and seek to bridge perceived divisions between Black and South Asian Americans through racialized hip hop. It is described how they uncover connections between South Asians and Black Americans, highlighting in their lyrics links such as the relationship between Martin Luther King Jr., Malcolm X, and Mahatma Gandhi. By taking up themes considered irrelevant to many Asian Americans, Desi performers including D'Lo, Chee Malabar of Himalayan Project and Rawj of Feenom Circle create a multiracial form of Black popular culture to fight racism and enact social change.
Villegas, Mark R., Kuttin Kandi, and Roderick N. Labrador, eds. Empire of funk: Hip hop and representation in Filipina/o America (San Diego: Cognella, 2014). [RILM Abstracts of Music Literature, 2014-5390]
Abstract: Gives long overdue attention to the most popular cultural art form practiced by recent generations of Filipina/o American youth. The anthology features the voices of artists, scholars, and activists to begin a dialogue on Filipina/o American youth culture and its relationship to race, ethnicity, gender, sexuality, and class. The text also offers the opportunity to question the future of hip hop itself. Individual chapters explore Filipina/o American hip hop aesthetics, community-building, the geography of hip hop in Filipina/o America, sexuality and power, activism and praxis, visual culture, and navigating the hip hop industry. This text gives readers a thoughtful introduction to an often-overlooked aspect of American society and culture.
Wang, Oliver. Legions of boom: Filipino American mobile DJ crews in the San Francisco Bay Area (Durham: Duke University Press, 2015). [RILM Abstracts of Music Literature, 2015-13936]
Abstract: Armed with speakers, turntables, light systems, and records, Filipino American mobile DJ crews, such as Ultimate Creations, Spintronix, and Images, Inc., rocked dance floors throughout the San Francisco Bay Area from the late 1970s through the mid-1990s. This book chronicles the remarkable scene that eventually became the cradle for turntablism. These crews, which were instrumental in helping create and unify the Bay Area's Filipino American community, gave young men opportunities to assert their masculinity and gain social status. While crews regularly spun records for school dances, weddings, birthdays, or garage parties, the scene's centerpieces were showcases—or multi-crew performances—which drew crowds of hundreds, or even thousands. By the mid-1990s the scene was in decline, as single DJs became popular, recruitment to crews fell off, and aspiring scratch DJs branched off into their own scene. As the training ground for a generation of DJs, including DJ Q-Bert, Shortkut, and Mix Master Mike, the mobile scene left an indelible mark on its community that eventually grew to have a global impact.
Wong, Deborah. Louder and faster: Pain, joy, and the body politic in Asian American taiko. American crossroads (Berkeley: University of California Press, 2019). [RILM Abstracts of Music Literature, 2019-7730]
Abstract: A cultural study of the phenomenon of Asian American taiko, the thundering, athletic drumming tradition that originated in Japan. Immersed in the taiko scene for 20 years, the author has witnessed cultural and demographic changes and the exponential growth and expansion of taiko particularly in Southern California. Through her participatory ethnographic work, she reveals a complicated story embedded in memories of Japanese American internment and legacies of imperialism, Asian American identity and politics, a desire to be seen and heard, and the intersection of culture and global capitalism. Exploring the materialities of the drums, costumes, and bodies that make sound, analyzing the relationship of these to capitalist multiculturalism, and investigating the gender politics of taiko, the book considers both the promises and pitfalls of music and performance as an anti-racist practice. The result is a vivid glimpse of an Asian American presence that is both loud and fragile.
Wong, Yutian, ed. Contemporary directions in Asian American dance. Studies in dance history (Madison: University of Wisconsin Press, 2016). [RILM Abstracts of Music Literature, 2016-1207]
Abstract: The definition of Asian American dance is as contested as the definition of "Asian American". The term encompasses not only a range of national origins but also a dazzling variety of theoretical frameworks, disciplinary methods, and genres—from traditional to postmodern to hip hop. Contributors to this volume address such topics as the role of the 1960s Asian American movement in creating Japanese American taiko groups, and the experience of internment during World War II influencing butoh dance in Canada. Essays about artists look closely at the politics of how Asian aesthetics are set into motion and marketed. The volume includes first-person narratives, interviews, ethnography, cultural studies, performance studies, and comparative ethnic studies.
Yoshihara, Mari. Musicians from a different shore: Asians and Asian Americans in classical music (Philadelphia: University of Temple Press, 2007). [RILM Abstracts of Music Literature, 2007-5967]
Abstract: An examination of the phenomenon whereby musicians of Asian descent enjoy unprecedented prominence in concert halls, conservatories, and classical music performance competitions. A confluence of culture, politics, and commerce after World War II made classical music a staple in middle-class households, established Yamaha as the world's largest producer of pianos, and gave the Suzuki method of music training an international clientele. Soon, talented musicians from Japan, China, and South Korea were flocking to the U.S. to study and establish careers, and Asian American families were enrolling toddlers in music classes. This historical backdrop is punctuated by interviews with Asian and Asian American musicians, such as Cho-Liang Lin, Margaret Leng Tan, Kent Nagano, who have taken various routes into classical music careers. They offer their views about the connections of race and culture and discuss whether the music is really as universal as many claim it to be. A Japanese translation is cited as RILM 2013-34104.
Zhu, Ying and Quynh Nhu Le. "Body, time, and space: Poetry as choreography in Southeast Asian American literature", Dance chronicle: Studies in dance and the related arts 39/1 (2016) 77–95. [RILM Abstracts of Music Literature, 2016-26748]
Abstract: This collaboration between a dance scholar and a literary/critical race studies scholar engages cross-disciplinary strategies of reading poetry to complicate contemporary discourses surrounding Southeast Asian American cultural productions. We offer an analysis of Phayvanh Luekhamhan's Rubber bands and Diep Tran's Schools, focusing on their incorporation of elements integral to both dance and Southeast Asian diasporic poetry: body, time, and space. Choreographic in form and content, these poems shed light on the embodied repercussions of imperialism, war, and migration, and call forth the moving body as central to both recording and cultivating the formation of communities in diaspora.