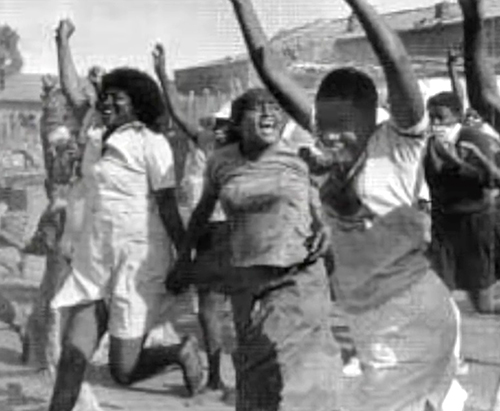 The toyi-toyi is a high-kneed, foot-stomping dance, rhythmically punctuated by chants and call and response. It can be observed at almost any kind of protest in South Africa and Zimbabwe today.
Many people associate it with the South African township protests of the 1980s, when young men toyi-toyied as they confronted police or attended political funerals and protests. But its origins are in fact much further away, and they tell us about a much longer, global history of political and military struggle. This story played out across Africa, moving from north to south, all the way from Algeria to South Africa, with stops in Tanzania, Zambia, Angola, and Zimbabwe along the way.
This according to "The incredible journey of the toyi-toyi, southern Africa's protest dance" by Jocelyn Alexander and JoAnn McGregor (The conversation 2 February 2021; RILM Abstracts of Music Literature no. 2021-485).
Below, a performance from 2015, with some historical footage.