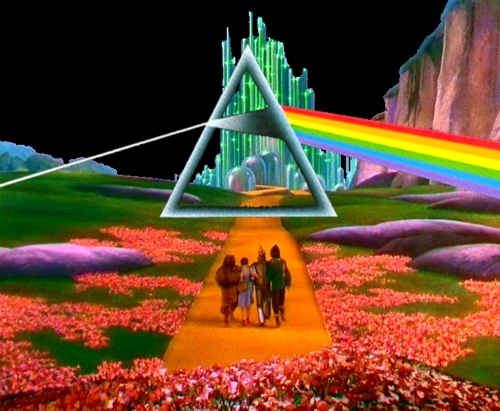 Fifty years ago today Pink Floyd's album The dark side of the moon soared to number one on the US Billboard chart, beginning a record-breaking 741-week chart run; it has since sold over 45 million copies worldwide, making it the fourth-best-selling album in history.
Let's celebrate this historic event by visiting an odd corner of the album's reception history: a meticulous and complex theory claiming that it was conceived, constructed, and produced as a deliberate and calculated musical accompaniment to the 1939 film The Wizard of Oz, and that its sounds and silences will, if correctly decoded, reveal explicit and specific congruences with key scenes in the movie.
The theory's origins can be traced to the mid-1990s, when fans began excitedly posting on Pink Floyd websites about synchronicities that result from simultaneously watching the film and listening to the album. Soon these fansites provided detailed instructions for experiencing these audio-visual parallels. Typically viewers are told to start the film and begin playing the album at the MGM trademark lion's third roar; if the music begins at the moment that the words "Produced by Mervin Leroy" appear on the screen the synchronization is on track, and the coincidences begin:
Just after the words "look around" in Breathe, Dorothy turns around;
The words "balanced on the biggest wave" accompany Dorothy balancing on a fence;
At the words "no one told you when to run" Dorothy breaks into a trot;
The great gig in the sky starts just as the tornado arrives, and ends when it ceases;
Many aspects of the Munchkin scene are coordinated with Money;
The chimes in Time coincide with the appearance of the Wicked Witch of the West;
and so on, with different websites claiming as many as 70 to 100 moments of synchronicity.
Although the band members have dismissively refuted any association between the album and the film, enthusiasm for the theory continues unabated. On one level, this phenomenon may be an example of an urban myth. On another level, it may reveal much about how texts can generate multiple meanings that dispel the tyranny of the imposed explanation—one of the principal tenets underlying the relocation of the consumer as active rather than passive.
This according to "'We're not in Kansas any more': Music, myth and narrative structure in The dark side of the moon" by Lee Barron and Ian Inglis, an essay included in "Speak to me": The legacy of Pink Floyd's "The dark side of the moon" (Aldershot: Ashgate, 2005, 56–66; RILM Abstracts of Music Literature 2005-6807).
Below, we invite you to see how many coincidences you can discover!