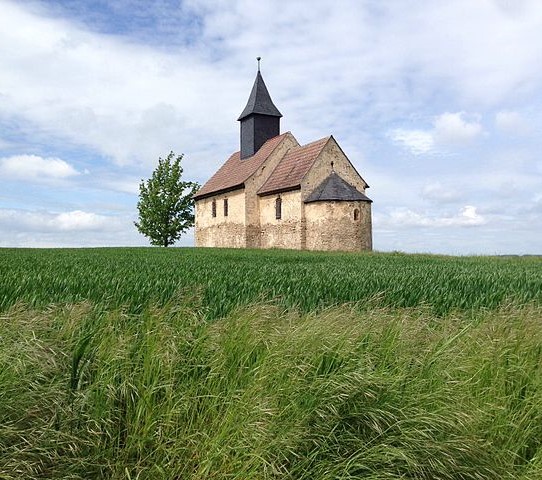 The Chapel of St. Anne (above), an 11th-century romanesque church on an isolated hill in the hamlet of Krobitz in southeastern Thuringia, stood unvisited for many decades, except for outdoor festivities once a year on the Feast of the Ascension.
It was this annual celebration that brought the chapel to the attention of the Berlin artist and musician Carsten Nicolai, who was scouting for a location for an installation for the project 500 Kirchen—500 Ideen, which sought proposals for rescuing some of the many more or less abandoned Protestant churches in central Germany (2000 in Thuringia alone).
The resulting work, installed in 2017, is a sculptural piece entitled organ. A pyrophone built by Frank Fietzek in which gas flames generate sound by disturbing the airflow in 25 glass cylinders, the work/instrument is programmed to play a 12-minute piece composed for it by Nicolai. It has also been used for improvisation, and its presence has made the church a popular venue for various activities organized by both community members and visitors.
This according to "Klang-, Licht- und Wärmespender: Die Feuerorgel von Carsten Nicolai in der St. Annen-Kapelle Krobitz, Thüringen" by Elisa Wrobel (Organ: Journal für die Orgel XXV/4 [2022] 34–36; RILM Abstracts of Music Literature 2022-15515).
Below, organ in action.
Related article: Singing flames