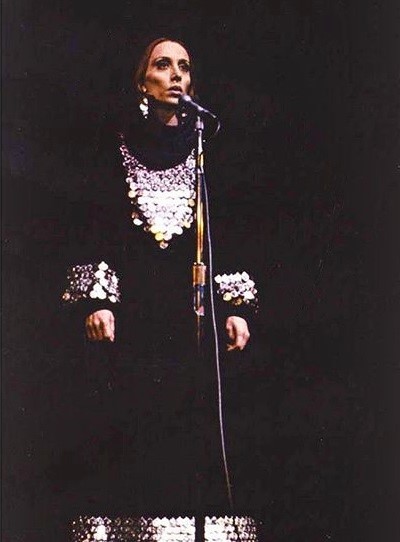 After her breakout performance at Lebanon's 1957 Baalbeck International Festival (where organizers had initially worried that their sophisticated audience would find homegrown music distasteful) the music of Fayrūz went on to become a powerful emblem of Lebanese identity—a position that it holds to this day.
Fayrūz's performance, which featured music by the Raḥbānī brothers, was the headline act of the Festival's first Lebanese Nights series, and its resounding success ensured the continuation of the series, with the Fayrūz/Raḥbānī trio as its mainstay, until the Festival's suspension at the beginning of the Civil War in 1975. During that time, the trio forged a music that both articulated Lebanon's national character and aspired toward a future in which the country's liminal position between the Arab world and the West would bring long-lasting peace and prosperity.
While this element of futurity was rhetorical and discursive, it was also profoundly sonic, manifested in the arrangement, instrumentation, and style of their work. The Fayrūz/Raḥbānī trio's music was clearly positioned in relation to three major reference points that dominated nationalist discourse at the time: Arab nationalism, the West (conceived as European high culture), and Lebanese culture (conceived as local folklore).
While the style developed by the trio continues to shape understandings what it is to sound Lebanese today, Fayrūz's voice has become symbolic of Lebanon itself. Notably, she did not sing there during the Civil War; she came back to perform in 1994, and returned to Baalbeck's stage on the occasion of the Festival's postwar resumption in 1998. Her wartime silence was publicly received as an act of resistance against violence on Lebanese soil and as a show of solidarity with the Lebanese people—further reinforcing the identification of her voice and persona with Lebanon as a country.
This according to "Hearing cosmopolitan nationalism in the work of Fairuz and the Rahbani Brothers" by Nour El Rayes (Yearbook for traditional music LIV/1 [2022] 49–72; RILM Abstracts of Music Literature 2022-16150).
Above, Fayrūz performing in 1971 (public domain). Below, the official music video for the Fayrūz/Raḥbānī song Lebnan el akhdar (لبنان الأخضر/Lebanon the verdant); the recording is the subject of a detailed analysis in El Rayes's article.