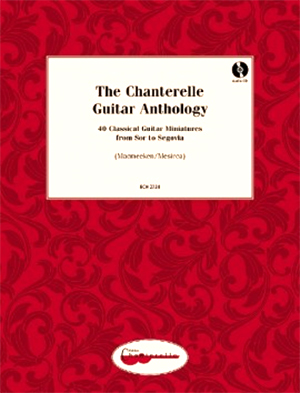 In 2019 Schott issued The Chanterelle guitar anthology: 40 classical guitar miniatures from Sor to Segovia (RILM Abstracts of Music Literature 2019-16967), which presents 40 miniatures (studies, character pieces, caprices, etc.) from the Classic and Romantic eras through the 20th century. Most of the charming little pieces by well-known composers are from the catalogue of the renowned publisher of guitar music Chanterelle.
The selected pieces are of medium difficulty, ideal for music lessons, performances, and private music-making; the edition contains a detailed English preface with performance instructions for each individual piece. All pieces have been recorded by Alberto Mesirca on the accompanying audio CD.
Below, Fernando Sor's Leçon op. 31, no. 21, one of the pieces included in the edition.