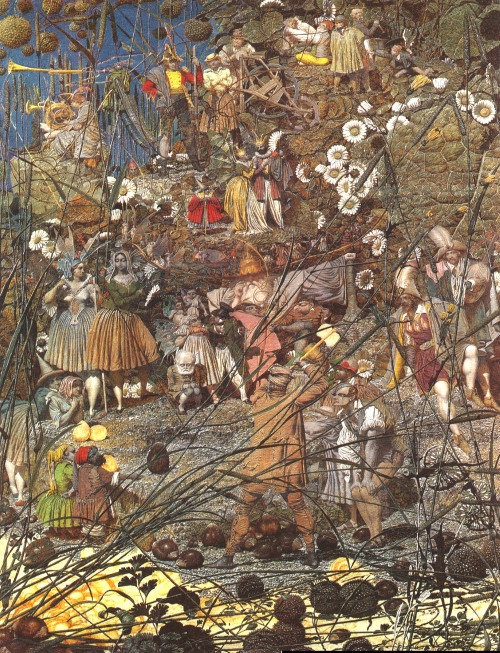 In contrast to their American counterparts, English musicians in the late 1960s found psychedelic inspiration in their childhood reading lists, which, for just about every English child, included Lewis Carroll, Edward Lear, Kenneth Grahame, and A.A. Milne.
Songwriters like Robin Williamson (Incredible String Band), Syd Barrett (Pink Floyd), Peter Daltrey (Kaleidoscope), and others went on to create their own fantastical characters, nonsense verses, and imagery around themes of anthropomorphism, lost childhood, and The Quest.
This according to "Grumbly grimblies, frozen dogs, and other boojums: Eccentricity from Chaucer to Carroll in English psychedelia" by Peter Grant, an essay included in The Routledge companion to popular music and humor (New York: Routledge, 2019, pp. 49–57).
Above, Richard Dadd's The fairy feller's master-stroke, a painting beloved by fans of psychedelia; below, Syd Barrett's The gnome, from Pink Floyd's debut album.