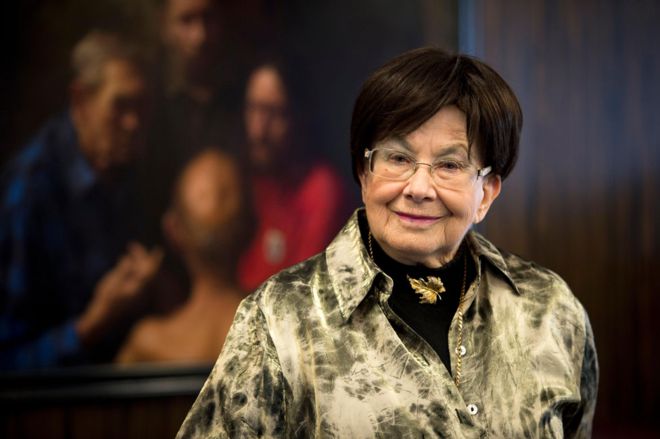 Zuzana Růžičková endured three concentration camps and was persecuted by communists in the following years. Nevertheless, she went on to become one of the world's leading harpsichordists.
Born in Czechoslovakia to a prosperous Jewish family, Růžičková had a happy childhood but was sickly, suffering from tuberculosis. One day, as a reward for getting better from her illness, she asked her parents for a piano and piano lessons. Though doctors had ordered her to rest, she eventually got her way, and her teacher was so impressed that she encouraged her to go to France to study with the world's top harpsichordist.
But in 1939 the Nazis invaded Czechoslovakia; Růžičková was unable to continue her studies in France, and three years later she and her family were deported to the Terezin labor camp. "My childhood ended there," she says.
Music helped her to survive. She remembers writing down a small section of Bach's English Suite No 5 on a scrap of paper when she left Terezin in a cattle truck bound for Auschwitz. "I wanted to have a piece of Bach with me as a sort of talisman because I didn't know what was awaiting us."
Růžičková was due to be gassed on 6 June 1944, but she was saved by the D-Day landings, which took place early that day. She then endured forced labor in Germany before being sent to the Bergen-Belsen death camp in 1945, where she contracted bubonic plague.
When she finally returned home to Czechoslovakia her hands were badly damaged from working in the fields and hauling bricks. She was advised to abandon any ambition for a musical career. But, she says, "I couldn't live without music," and she practiced the piano for twelve hours a day to make up for lost time.
Despite continued persecution by the communist government, Růžičková went on to forge a distinguished career as a harpsichordist. Her international breakthrough came in 1956 when she won the ARD International Music Competition in Munich, and she was allowed to perform in competitions and concerts around the world because she was a lucrative source of foreign currency for the state. Between 1965 and 1975 she became the first person to record Bach's complete keyboard works.
She remains grateful to the composer, who, she says, "played a big role in my recovering from my terrible experiences…Bach is very soothing. You always feel in his music that God is present somehow."
This according to "The miraculous life of Zuzana Ruzickova" by Rebecca Jones (BBC news 19 December 2016).
Today is Růžičková' 90th birthday! Below, performing Bach's English suite no. 5, her early talisman.