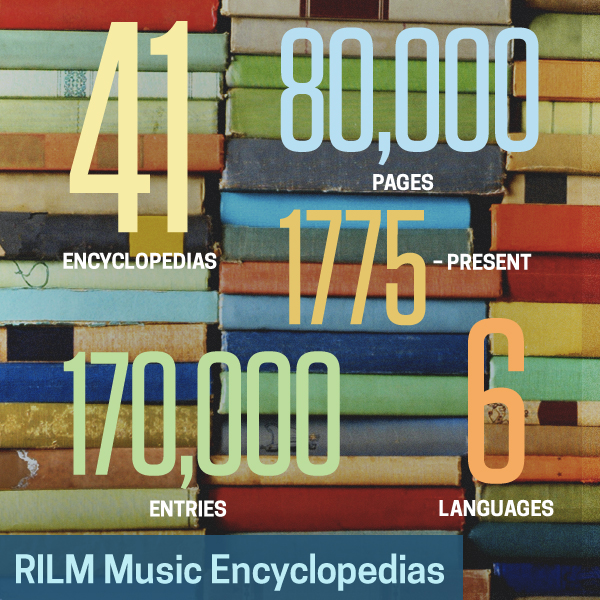 RILM proudly introduces RILM Music Encyclopedias™, a full-text compilation of 41 seminal titles published from 1775 to the present, the majority of which are not available anywhere else online.
RILM Music Encyclopedias comprises nearly 80,000 pages with approximately 165,000 entries. It provides comprehensive encyclopedic coverage of the most important disciplines, fields of research, and subject areas, among them popular music, opera, musical instruments, blues, gospel, world music, recorded sound, and women composers. Its content spans multiple countries, cultures, and languages (including English, German, French, Italian, Dutch, and Greek). It is designed as an extensive global resource that meets the teaching, learning, and research needs of the international music community.
New titles will be added annually, ensuring that RILM Music Encyclopedias is musicology's reference shelf of the future, comprising every aspect of lexicographical writings on music. RILM Music Encyclopedias is available via EBSCOhost®, which brings its expertise to bear on the design of the online database with a user-friendly and familiar platform. RILM Music Encyclopedias is fully equipped with the most advanced search and browse capabilities, allowing for cross searches in multiple languages. It is the only multilingual cross-searchable collection of music encyclopedias in the world.
For trials, sales, and subscription terms please contact your EBSCO Sales Representative or email information@ebsco.com.