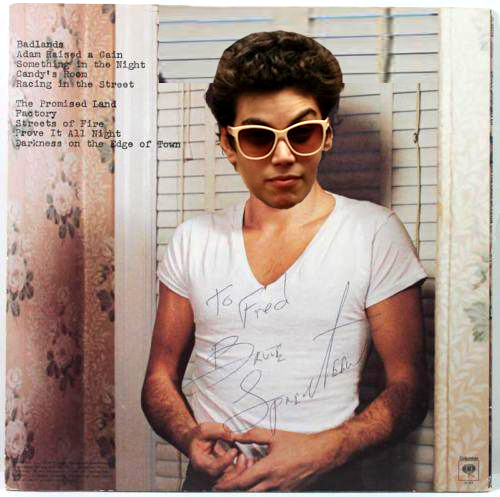 The narratives of Bruce Springsteen's songs resonate with many queer people, who are well aware of the possibility of a life-altering freedom that presents itself as the reward for stepping into your true self (even when that freedom comes, as is often the case, at great cost).
Springsteen is far from gay; some might argue he is one of the straightest men alive. Nonetheless, some fans regard his work as, in Rosalie Zdzienicka Fanshel's words, "homoerotic or queerly suggestive".
There's also Carmen Rios's "We're here and we're queering Bruce Springsteen" at one of the longest-running sites for queer women, Autostraddle; the queer writer Tennessee Jones's short story collection Deliver me from nowhere, based on the album Nebraska; and the many queer Bruce Springsteen zines, from Because the Boss belongs to us to Butt Springsteen.
What exactly is so queer about Springsteen? Is it his extreme butchness, so practiced and so precise that he might as well have learned it from the oldest lesbian at a gay bar? Is it because his hard-earned, roughly hewn version of love is recognizable to those for whom desire has often meant sacrifice? Or is it something simpler? Do many queers love Springsteen because nearly every song he has produced in his 50-year career reflects a crushing, unabiding sense of alienation and longing—and what could be more queer than that?
This according to "Things that can only be found in the darkness on the edge of town: The queerness of Bruce Springsteen" by Naomi Gordon-Loebl (The nation 6 November 2019).
Below, Springsteen's Tougher than the rest, a song (and video) discussed in the article.