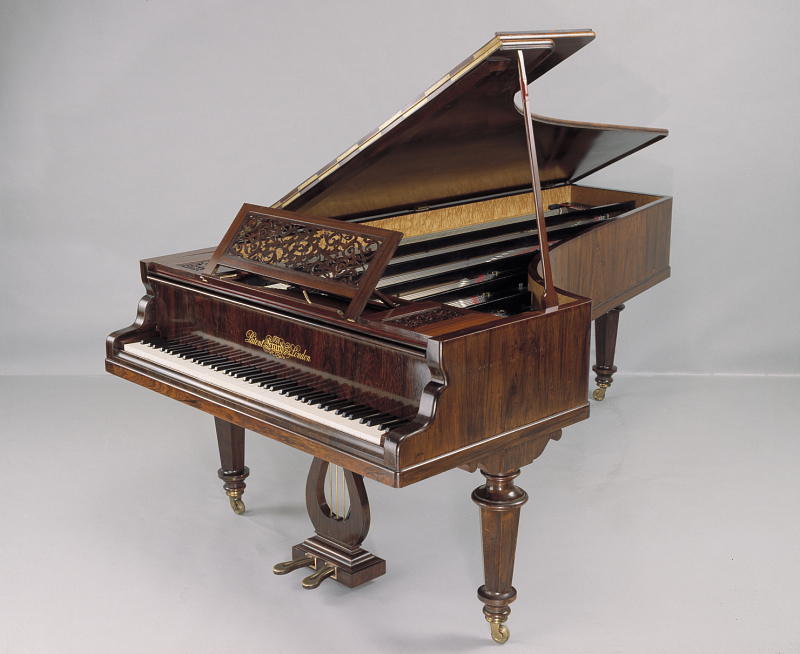 Anyone who saw the PBS Masterpiece series Victoria last year knows that Prince Albert was an avid music lover and a pretty good pianist. There are quite a few scenes in which the romantic feelings of both Albert and Victoria (not a bad pianist herself) are expressed at the piano. In this light, the gift of Victoria of a grand piano to her husband means more than just any gift of a precious object; the piano represented the emotional bond between them, which lasted until Albert's untimely death in 1861. They often played piano duets together and, in the tradition of pre-recording times, this included four-hand arrangements of symphonies, operas, and overtures. Whenever they travelled, they brought a pile of sheet music for their own entertainment, and in each one of their palaces there was at least one piano. In addition, they frequently hosted chamber music concerts or piano recitals by all the famous artists of their time.
Victoria and Albert owned no less than three grand pianos made by the Erard firm: apart from the above instrument, Victoria commissioned an 18th-century-style gilded instrument in 1856, similar to one she had owned in the 1830s at Buckingham Palace, as well as the 1848 Erard piano, which was exhibited at the Paris Exhibition of 1849. Reportedly, Prince Albert had designed the case: a tulip-veneer design with nine porcelain depictions of famous old paintings.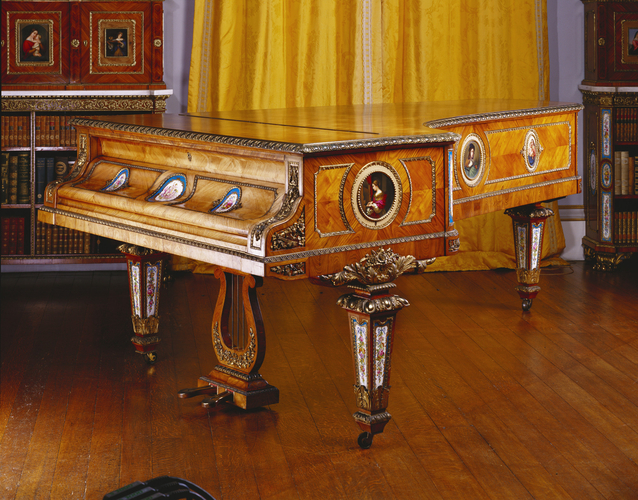 Why did the royal couple seem to have a preference for Erard pianos? The Erard firm was the most forward-looking piano firm of its time, in line with Prince Albert's interest in the crossroads between art and industrial progress. The founder of the firm, Sébastian Érard (1752–1831), was born in Strasbourg and settled in Paris in 1768. In 1779 he first travelled to London with the intention of setting up a piano firm, a plan he realized in 1792, while at the same time running a flourishing piano factory in Paris where he sold hundreds of instruments each year. Most of the pianos he sold were square pianos, but he also built grand pianos from 1790 or even earlier. Initially, the piano actions Erard used were based on the so-called "English action" used by John Broadwood in London, but Erard modified it to create a lighter touch. In 1821 he revolutionized piano building with the invention of his "double-escapement action," which allowed for a greater ease of playing and louder sound. In addition, Érard was famous for the wood artistry and decorations of the cases of his most expensive models, such as were found in palaces around Europe. There were some differences between Erard's pianos made in London and those made in Paris: the London pianos (such as the 1854 piano) tended to be plainer and sturdier, and there were also subtle differences in stringing and hammer-covering. As one can see in the illustration, it does not yet have the full-size iron frame, but rather iron bars across the length of the instrument to help withstand the string tension.
For more on musical instruments in the collection of Victoria and Albert: https://www.rct.uk/collection/themes/trails/music-in-the-royal-collection/queen-victoria-1819-1901-and-prince-albert-1819-61
This post was produced through a partnership between Smithsonian Year of Music and RILM and its blog Bibliolore.
Written and compiled by Maria Rose, Editor, Répertoire International de Littérature Musicale (RILM).
Bibliography
Budds, Michael Joe. Music of the court of Queen Victoria: A study of music in the life of the Queen and her participation in the musical life of her time (Ph.D. diss., University of Iowa, Iowa City, 1987). [RILM Abstracts of Music Literature, 1987-2692]
Victoria was a patroness and an enthusiastic consumer of music. An accomplished amateur, she was known for her appreciation of opera and opera singers. Her understanding was broadened, though not defined—as is generally thought—by Prince Albert. (author)
Clarke, Christopher. "Érard and Broadwood in the Classical era: Two schools of piano making." Musique, images, instruments: Revue française d'organologie et d'iconographie musicale 11 (2009) 98–125. [RILM Abstracts of Music Literature, 2009-9536]
French pianos of the Classical period have long been considered as having been copied from English models. While it is undeniable that there was a strong English influence on the French school, the inventive genius of Sébastien Érard led him to design both grand and square pianos that were ideally suited to the requirements of French musicians. Their demands for rapid repetition and a bright, powerful tone led him not only to invent a revolutionary series of piano actions which culminated in the famous double-escapement actions of 1821 and 1822, but also to re-think the structure and the tone-producing aspects of his instruments. Érard's work is compared with his sources of inspiration; particularly the work of John Broadwood, but also that of Robert Stodart, the firm Crang & Hancock, Schoene, and others. In particular, two grand pianos and two squares, one each from Broadwood's and Érard's workshops, are discussed and compared. (author)
Epenhuysen Rose, Maria van. L'art de bien chanter: French pianos and their music before 1820 (Ph.D. diss., New York University, New York, 2006). [RILM Abstracts of Music Literature, 2006-13693]
Influenced by vocal styles, the development of French pianos and their music followed a different path from that in other regions of Europe. The Viennese-style piano, used in Paris concerts in 1784, was criticized for its lack of harmonie; the English piano for its heavy action. Sébastien Érard achieved a successful fusion of both types of piano in 1809 with the étrier-action piano. The reception of the piano in France is traced, using a variety of sources, including Antonio Bartolomeo Bruni's 1794 list of confiscated instruments. Piano styles are analyzed in the works of Johann Schobert, Johann Gottfried Eckard, Nicolas Joseph Hüllmandel, Edelmann, Louis Adam, and others. Ca. 1790 a densely textured piano style became the norm, which relied on overlapping legato, rather than the pedal to create sustained sounds. After 1795, the focus on technique at the Conservatoire contrasted increasingly with the application of bel canto singing styles in private music making. (author)
Roudier, Alain. "Les pianos Érard en forme de clavecin (1790–1797)/The Érard grand pianos in the shape of a harpsichord/Die Érard-Flügel in Cembaloform", Sébastien Érard: Ein europäischer Pionier des Instrumentenbaus: Internationales Érard-Symposium, Michaelstein, 13.–14. November 1994, ed. by Rudolf Frick. (Blankenburg: Kultur- und Forschungsstätte Michaelstein, 1995) 12–14. [RILM Abstracts of Music Literature, 1995-3167]
It appears certain that the Érard firm made grand pianos before they patented them in 1794. The concept of this instrument and its English escapement mechanism reveal the influence of Broadwood, who had in fact been a source of inspiration to Sébastian Érard since 1779. The existence of an Érard grand piano from around 1790 is also confirmed by the firm's register book, which lists numbered grand pianos, and by its sales books, which lists unnumbered instruments. Seventeen of these instruments—13 of them numbered—have been identified so far. A list of grand pianos made before April 1797 is included. (author)