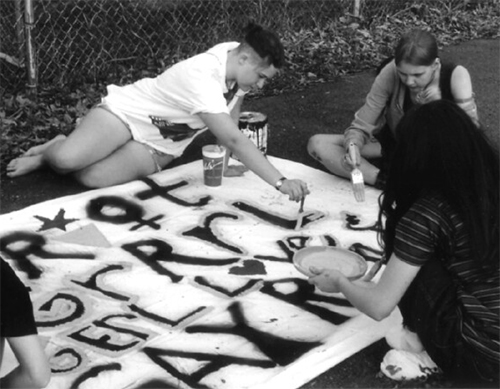 Notoriously difficult to categorize as both a genre of music and as a social movement, riot grrrl has come to be acknowledged as one of the most significant crossovers between politics and sound: feminism as music, music as feminism.
Riot grrrl embraced and propagated feminism through its music, lyrics, performances, zines, and everyday activities. It complicated the notion of gender-based aesthetics in both music and in fashion, demanding attention and pointing out the hypocrisies present in our social norms. In addition, the music and movement worked to expose the social and personal concerns of girls that were habitually excluded from the mainstream, including sexual abuse, anorexia, and body image.
Through its incorporation of feminism, riot grrrl attempted to give a voice to girls, allowing for a self-representation that had never been accessible before. Yet their efforts at reappropriation also led to some alarming contradictions in their feminism. Riot grrrl's use of irony and reworking of traditional gender roles and mores in some cases actually acted to reinforce those culturally sexist ideas of women. These complications deepened the political and social implications of a group of women trying to re-size control over how gender played out in our cultural landscape.
This according to "I predict a riot: Riot grrrls and the contradictions of feminism" by Shayna Maskell, an essay included in The Routledge history of social protest in popular music (New York: Routledge, 2013, pp. 184–97).
Above and below, the pioneering riot grrrl band Bikini Kill at CBGB in the early 1990s.
More posts about punk rock are here.