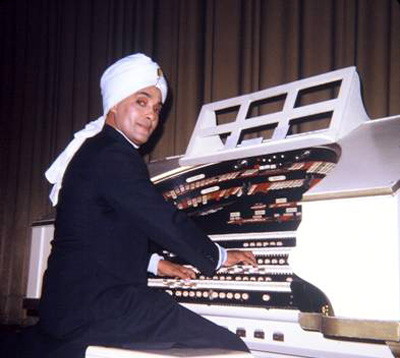 The son of an Indian Brahman and a French singer, Korla Pandit (born John Roland Redd, 1921–98) performed on Hammond organ and piano on Los Angeles television three times a week from 1949 to 1951. In every program he wore a suit and tie and a bejewelled turban, and he never spoke.
While he fulfilled, perpetrated, and even helped to form stereotypes of the mystical, exotic, Indian Other, Pandit interpreted and manipulated these notions to assert his ideas and beliefs about the essential union of East and West and the universality of spiritual experience.
This according to "Korla Pandit: Music, exoticism, and mysticism" by Timothy D. Taylor, an essay included in Widening the horizon: Exoticism in post-war popular music (Bloomington: Indiana University Press, 1999). Below, a 1951 performance of one of his trademark pieces, the traditional Greek song Μισιρλού (Misirlou).
BONUS: A classic surf-rock performance of the same piece by Dick Dale & the Del-Tones: