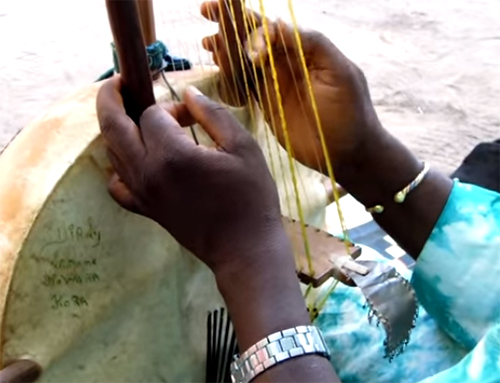 The widespread preference for buzzy timbres in African traditional musics has been notably borne out in the Mandé region of West Africa.
The two main types of buzzing mechanisms in Mandé music are metal buzzing rattles, which are attached to the neck or bridge of various string instruments, and mirlitons (vibrating membranes), which are placed over small holes on the resonating gourds of wooden xylophones.
Over the last seventy to eighty years, an older and rougher buzz aesthetic within Mandé music has become increasingly endangered, with buzzing largely disappearing from instruments such as the kora and the ngoni in favor of a more "clean" Western aesthetic. Considered in a wider cultural context, the incorporation of buzzing sounds within Mandé music might be connected to forms of esoteric, supernatural, and spiritual power.
This according to "The buzz aesthetic and Mandé music: Acoustic masks and the technology of enchantment" by Merlyn Driver (African music X/3 [2017] pp. 95–118).
Above and below, kora playing with nyenyemo (metal rattle attached to the bridge).