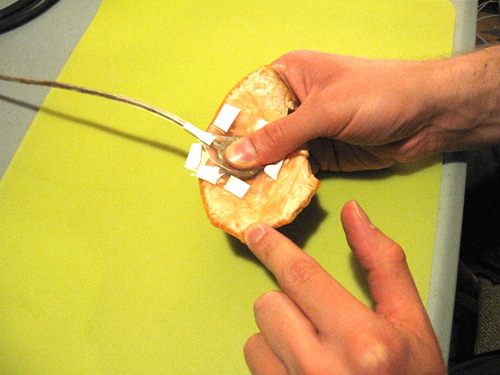 Musique concrète has evolved a great deal since its beginnings in the late 1940s; experiments with musique concrète that are presently occurring within the world of electronic dance music (EDM) and other musical genres are quite different from Pierre Schaeffer's original work.
In 2013 Brian Speise was composing credits music for a short zombie film and thought that the project would be perfect for experimenting with musique concrète. This was not a work of dance music at all, but it had elements of electronic music that producers of EDM can appreciate. Balloons and a grapefruit were brought into play.
This according to Mr. Speise's "From grapefruit to plastic surgery: Experiments in contemporary musique concrete" (Dancecult VI/1 [2014]).
Above, the author records a grapefruit peel with a contact microphone; you can hear the sound here.