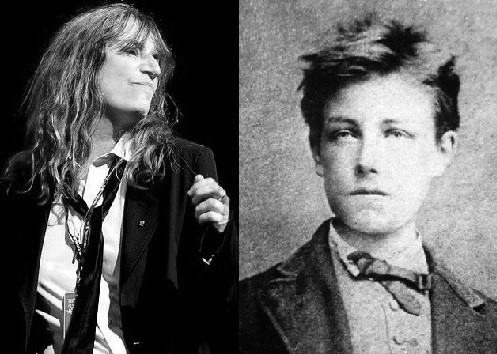 Patti Smith's direct assimilation of Arthur Rimbaud's work into hers presents a case of cultural cross-fertilization in which the poetry of a foreign high-cultural figure enters into and influences a popular and countercultural discourse, illustrating how a nonacademic reading of a canonical text can help to produce a musical style that disseminates a message of social deviance.
Smith has foregrounded her debt to Rimbaud in several ways, explicitly referring to him as her major poetic influence and participating in a hermeneutic activity as she transformed his texts into her own. The poet has served as Smith's most credible archetype of subversive behavior, and his work has provided the richest source for the development of her innovative aesthetic practices.
This according to "Rimbaud and Patti Smith: Style as social deviance" by Carrie Jaurès Noland (Critical inquiry XXI/3 [Spring 1995] pp. 581–610). Below, Smith performs Rock n roll nigger, one of the songs analyzed by Noland, in 2011; listen for Rimbaud's name around 3:20.
More posts about punk rock are here.