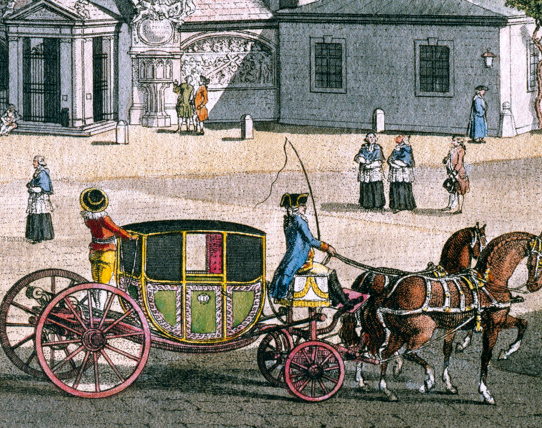 In 1762 Leopold Mozart purchased a horse-drawn coach in Pressburg: a well-sprung, covered travel carriage for four at the price of "nur 23 duccatten". Leopold described it as a "guten Reisewagen". It brought the family safely back to Vienna (a trip of 12 hours) and from there home to Salzburg, leaving Vienna on 31 December 1762. Half a year later the Mozart family used the same carriage for their grand tour of Western Europe (1763–66), which took them as far as London.
It is likely that the carriage Leopold purchased in Pressburg came from the workshop of the Haydn family, which was for several generations involved with carriage production and shared the market with just a few others. The family profession of carriage building began with Thomas Haydn, Joseph's grandfather, who was allowed to open a workshop in 1686.
Joseph Haydn stayed interested in the work of cartwrights, blacksmiths, and other manual professions. His letters and notebooks from London in particular show his interest in the working conditions of craftsmen there, and his preference for technical and practical matters, numbers, and measurements. Even at the peak of his international success, Haydn stayed connected to the family's cartwright tradition.
The carriage trade was still on his mind during his second stay in London, when he made several visits to a Mr. March, an 84-year-old dentist, wine merchant, and carriage maker. The aged gentleman impressed Haydn not only because of his very young mistress and a daughter of nine, but also because each coach sold by Mr. March earned him at least £500.
This according to "Did Mozart drive a 'Haydn'? Cartwrights, carriages and the postal system in the Austrian-Hungarian border area up to the eighteenth century" by Käthe Springer-Dissmann, an essay included in Ottoman empire and European theatre. II: The time of Joseph Haydn–From Sultan Mahmud I to Mahmud II (r.1730–1839) (Wien: Hollitzer Wissenschaftsverlag, 2014, 257–80; RILM Abstracts of Music Literature 2014-88916).
Above, an Austrian carriage from around 1790; below, a carriage ride through Mozart's Vienna.
More articles about Mozart are here.