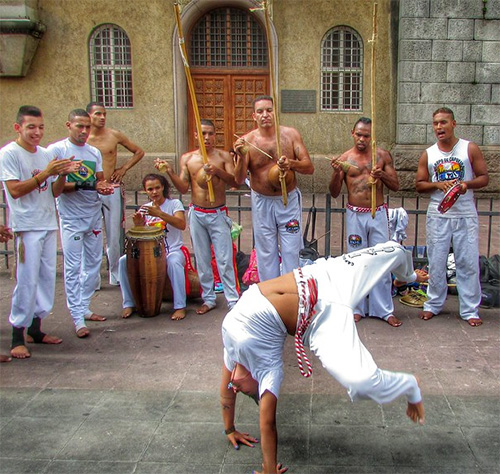 Capoeira, a Brazilian battle dance and national sport, was brought to Brazil by African slaves and first documented in the late 18th century. The genre has undergone many transformations as it has diffused throughout Brazilian society and beyond, taking on a multiplicity of meanings for those who participate in it and for the societies in which it is practiced.
Three major cultures inspired capoeira—the Congolese (the historic area known today as Congo-Angola), the Yoruban, and the Catholic Portuguese cultures. The evolution of capoeira through successive historical eras can be viewed with a dual perspective, depicting capoeira as it was experienced, observed, and understood by both Europeans and Africans, as well as by their descendants.
This dual perspective uncovers many covert aspects of capoeira that have been repressed by the dominant Brazilian culture. The African origins and meanings of capoeira can be reclaimed while also acknowledging the many ways in which Catholic-Christian culture has contributed to it.
This according to The hidden history of capoeira: A collision of cultures in the Brazilian battle dance by Maya Talmon-Chvaicer (Austin: University of Texas Press, 2008; RILM Abstracts of Music Literature 2008-708).
Above, capoeira performers in São Paulo (photo by Fabio Cequinel licensed under CC BY-NC 2.0); below, capoeira performers in Salvador, Bahia.