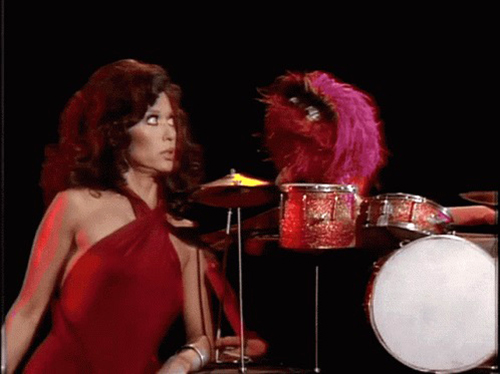 In 1977 Rita Moreno became the third person in history to achieve what has been called the "grand slam" of show business—a winner of the Emmy, Grammy, Oscar, and Tony Awards, or EGOT.
The clincher was her Primetime Emmy Award for Outstanding Individual Performance in a Variety or Music Program for an appearance on The Muppet show. In a 2021 interview, she recalled the experience.
"They had a studio two streets from us on Broadway. I saw [Jim Henson] at a restaurant one day, and I literally got on my knees. I said, 'I beg you to let me do some little-girl Muppet voices.' And I did. I would say, 'You don't have to pay me.' And he said, 'No, I do. This is a union shop. We have to pay you.' And then, a number of years later, I went to England to do The Muppet show."
"You [have to avoid] looking at the Muppeteer, which a lot of people do because it's a natural instinct to look at the person who's doing the voice. But I love comedy. This was my idea, by the way: 'What if I'm trying to be really sexy?' We had me in a great gown and a long wig, and I looked absolutely smashing. Animal's last line, after I smash him with the cymbals is 'That's my kind of woman!' And most people don't hear that because they're laughing."
Quoted in "Rita Moreno has time only for the truth" by Michael Schulman (The New Yorker, 17 June 2021 [online]; RILM Abstracts of Music Literature 2021-10493).
Today is Rita Moreno's 90th birthday! Above and below, the historic performance.