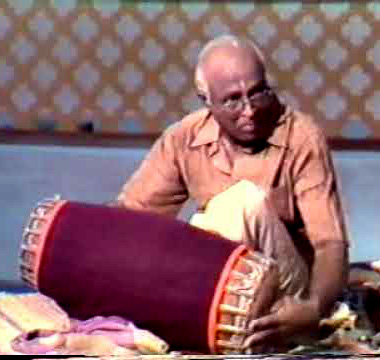 In a 1995 interview, Palghat R. Raghu recalled how he became a disciple of the legendary Palghat T.S. Mani Iyer.
"I was born in Rangoon. My grandfather was a self-made musician and in the locality he was known as Rangoon Radhakrishna Iyer. I was fond of drumming on biscuit tins for rhythm. [A relative] who came to our house presented me with a small mṛdaṅgam. It was a slow progress."
"[A friend] suggested that I should have the guidance of Palghat Mani Iyer. So we shifted to Palghat. But Mani Iyer did not accept me as a disciple at our first meeting. My grandfather told him beseechingly, 'We want to entrust Raghu in your hands. The boy is eager to learn from you.' There was no encouraging response from Mani Iyer."
"Two or three days we visited his house expecting a favorable reply; but no word of acceptance from Mani Iyer. It was here I found the hand of God coming to my rescue. One day when we were waiting in Mani Iyer's residence, a close friend of his came there with a vessel of halwa and gave a piece to me and told Mani Iyer 'Mani, this boy plays exceedingly well. I have heard him.' That settled it. Mani Iyer asked me to come every day for lessons."
Quoted in "Challenges brought out his best" by S.V. Krishnamurthy, an article included in The Hindu speaks on music (Chennai: Kasturi & Sons, 1999, pp. 245–47).
Today would have been Palghat Raghu's 90th birthday! Above and below, the master in his element.