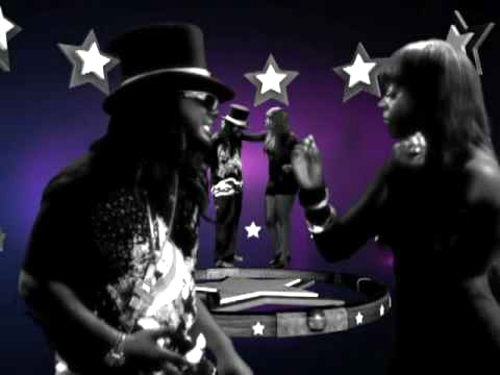 T-Pain's Can't believe it music video resonates with the ways that black bodies are represented as inhuman, superhuman, and subhuman in visual media, enacting strategic resistance to these discursive formations.
T-Pain's transformation of Auto-Tune into a subversive technology represents the radical black imagination, and signifiers in the video deploy constructions of race, class, gender, and sexuality as they relate to notions of blackness. The semiotics of T-Pain's trademark sound raise questions about what is at stake in the music through the generative force of sonic propulsion and the simultaneously old and novel articulation of a freedom drive propelling black performance.
This according to "Crossing cinematic and sonic bar lines: T-Pain's Can't believe it"by James Gordon Williams (Ethnomusicology review XIX [fall 2004] pp. 49–76). This journal, along with many others, is covered in our new RILM Abstracts of Music Literature with Full Text collection.
Above and below, the video in question.