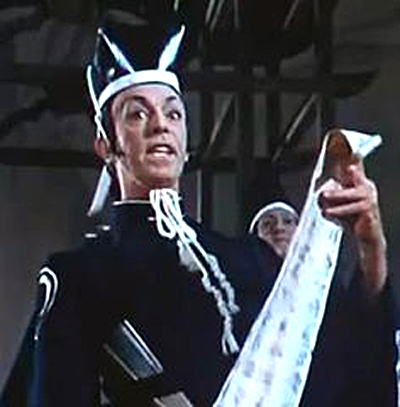 The great Gilbert and Sullivan singer John Reed was renowned for urbanity, verbal inanity, touching humanity, antic insanity, and a singular lack of theatrical vanity.
Among the attributes that equipped Mr. Reed spectacularly well for the job were an elfin physique, fleetness of foot (he had been a prize-winning ballroom dancer as a young man) and, perhaps most important, the elocution lessons he had taken in his youth, which let him sail through the patter songs that are the hallmarks of Gilbert and Sullivan's comic baritone roles.
This according to "John Reed, master of Gilbert and Sullivan's patter songs, dies at 94" by Margalit Fox (The New York times CLIX/54,965 [20 February 2010] p. A26).
Today would have been Reed's 100th birthday! Above and below, one of his signature roles: Ko-Ko, the Lord High Executioner, in The Mikado.