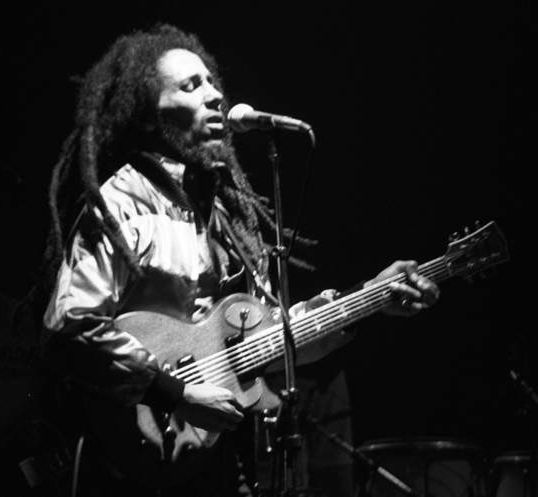 Throughout Bob Marley's life, and perhaps even more since his death at the age of 36, his music has demonstrated a unique ability to combine with almost any cultural setting, no matter how different the elements might at first appear. Through his adaptable yet enduring musical messages, he represents an especially articulate type of singer-songwriter.
Marley released a large quantity of introspective, autobiographical material at the height of his success, providing a deep understanding of who he was and what he hoped to achieve through his life and music. Salient themes include protest, revolution, love, hate, biblical concepts, and Rastafari culture.
This according to The words and music of Bob Marley by David Vlado Moskowitz (Westport: Praeger, 2007).
Today would have been Marley's 70th birthday! Above, a photo by Ueli Frey from 1980, a year before Marley's death; below, performing with The Wailers the same year.