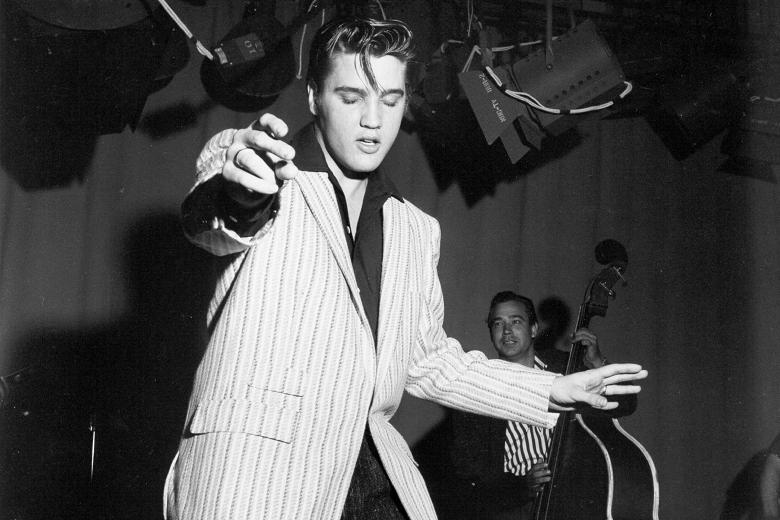 Most rock critics view Elvis Presley's career as a progressive sell-out to the music industry, a transition from folk authenticity (the Sun singles of 1954–55) to a sophisticated professionalism epitomized by the ballads and movies of the 1960s.
This Faustian view is in essence just as romantic as the rags-to-riches American success legend—its apparent obverse—but there are major problems with such an analysis. In reality, the processes of creation, production, and consumption in modern mass societies are too dynamic and interactive to permit rigid historical, typological, or evaluative dividing lines.
In post-war America, a pure "folk" role, untouched by commercial influences, had become impossible. The performers that the young Elvis heard and learned from—gospel singers, bluesmen, and country and western stars—were commercial artists. Presley was a commercial artist from the start, and the continuities in his vocal style are more important than any rupture. His two most notable contributions to the language of rock and roll singing are the assimilation of romantic lyricism and a technique referred to here as boogification.
Contrary to most blues singers, Presley's tone is full and rich, his intonation is precise, and his phrasing is legato. However, this lyrical continuity is subverted by boogification—producing syncopation and cross-rhythms—where he adds extra off-beat notes not demanded by words or vocal lines, splits up syllables or even consonants, and slurs words together, disguising the verbal sense.
This according to "All shook up? Innovation and continuity in Elvis Presley's vocal style" by Richard Middleton, an essay included in Elvis: Images and fancies (Jackson: University Press of Mississippi, 1979, pp. 151–161).
Today is Presley's 80th birthday! Below, live in his home town in 1956.