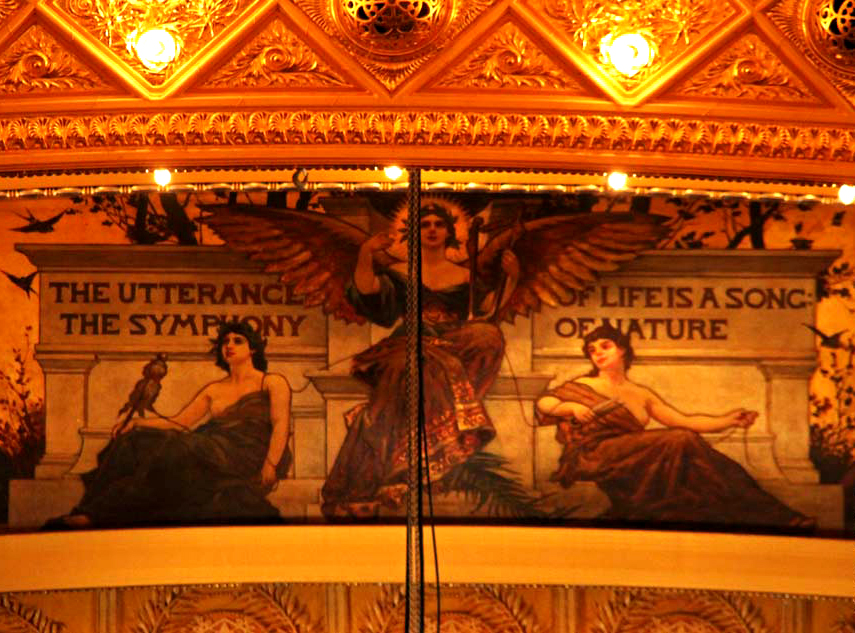 Louis Sullivan's interior designs for the theater of the Chicago Auditorium Building (1889) reflect the ideas of Wagner and of the transcendentalist and music critic John Sullivan Dwight.
Especially significant are the murals, supervised by Sullivan, which allude to multiple art forms and to the democratic ideal of the opera house as a social institution.
Albert Fleury designed the murals on the side walls using themes drawn from Sullivan's prose-poem Inspiration: An essay, which is full of musical imagery. The proscenium frieze, designed by Charles Holloway, depicts a central winged figure holding a lyre, flanked by several other figures and by the words "The utterance of life is a song: the symphony of nature".
This according to "Louis Sullivan, J.S. Dwight, and Wagnerian aesthetics in the Chicago Auditorium Building" by Stephen Thursby, an essay included in Music in architecture, architecture in music (Austin: University of Texas, 2014, pp. 42 –53 ).
Above, the central figures in Holloway's frieze (click images to enlarge); below, the frieze in the full proscenium; further below, one of Fleury's murals, with the quotation from Sullivan's text "O, soft, melodious spring time! First-born of life and love".