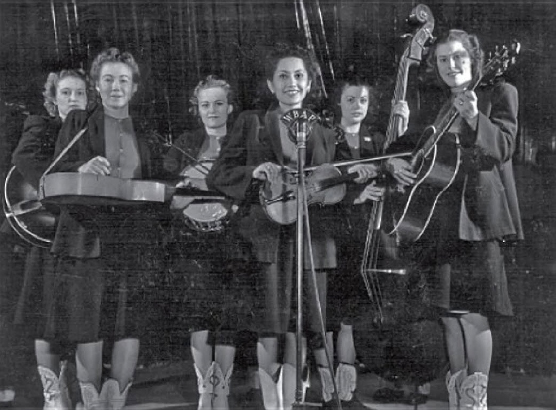 The members of the Goree All-Girl String Band, all inmates in the Texas state prison system, used country music's gender iconography in their struggle for greater autonomy and ultimately freedom in the 1930s and 1940s.
Their incarceration and past violations of the norms of feminine passivity and virtuousness placed them beyond the pale of country music's prevailing image of valued femininity: the sentimental mother, who embodied home, domesticity, and a lost rural past. But through the alternative roles of dutiful daughter and cowboy's sweetheart they performed their way to rehabilitation, both symbolically (as women who had returned to their proper place) and literally (as convicts who had served their time or gained clemency).
Though largely forgotten today, the Goree Girls' popularity during their broadcasting years demonstrates that while country audiences may have venerated the sentimental mother, they also identified with and embraced women whose relationship to dominant gender ideals was fraught with complications.
This according to "As if they were going places: Class and gender portrayals through country music in the Texas State Prison, 1938–1944" by Caroline Gnagy, an essay included in Country boys and redneck women: New essays in gender and country music (Jackson: University Press of Mississippi, 2016, pp. 126–45).
Below, a selection from a musical based on the Goree Girls' story; information on the 2017 production is here (scroll down). A film produced by Jennifer Aniston is reportedly in the planning stages; information on that topic is here.