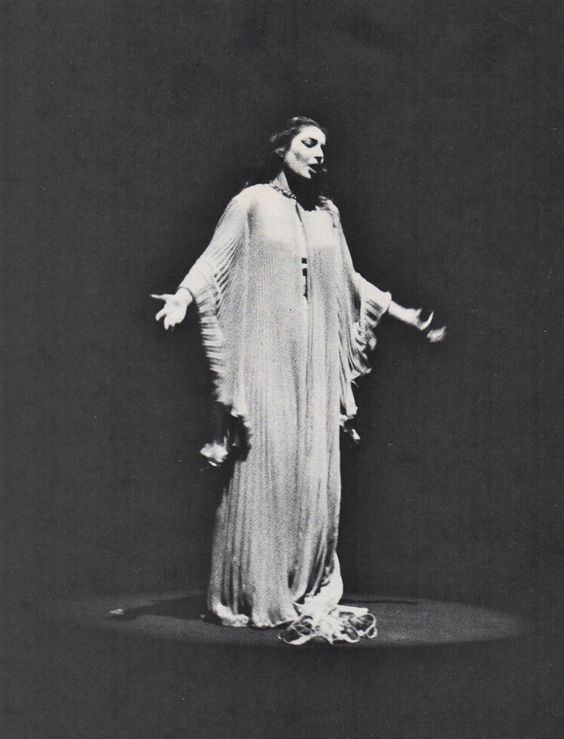 In the final act of Donizetti's Lucia di Lammermoor Lucia is forced to marry Arturo, murders him, and promptly goes insane. In the modern tradition, as exemplified by Joan Sutherland and Maria Callas (above), the mad Lucia sings a cadenza accompanied by a flute, in which the instrument takes on the mantle of a ghostly Doppelgänger. Donizetti's original written cadenza, however, is little more than a short ornament to be sung in one breath on the dominant chord.
The first Lucia, Fanny Tacchinardi-Persiani, probably improvised her own version in performance using the skeletal guide provided by the composer, and developed a cadenza to be sung in two breaths instead of one.
At some point during the second half of the 19th century a new way of executing this cadenza appeared: with obbligato flute. This practice must have drawn upon the composer's use of an obbligato flute that faithfully follows the soprano in thirds and sixths during the moments leading up to the cadenza. Donizetti had originally indicated the eerie sound of the glass harmonica here, but he had to recast the line for flute following a dispute between the theater and the intended glass harmonica player.
The earliest surviving Lucia/flute cadenza has been attributed to Mathilde Marchesi, who composed a version for her protégé Nellie Melba; when Melba performed Lucia for the first time at the Paris Opéra in 1889 the flutist in the orchestra was Paul Taffanel, who may have assisted in the cadenza's composition. However, there were at least three singers who executed their own voice/flute cadenzas earlier: Christina Nilsson, Ilma de Murska, and Emma Albani; Nilsson's cadenza was composed by Luigi Arditi.
The flute-accompanied cadenza marked an important shift in the performance practice of the Lucia role. Being a duet, it could no longer serve as a spontaneous display of the soprano's vocal virtuosity—it became a preconceived and well-rehearsed collaboration in a more complex form.
This according to "Manacled freedom: Nineteenth-century vocal improvisation and the flute-accompanied cadenza in Gaetano Donizetti's Lucia di Lammermoor" by Naomi Matsumoto, an essay included in Beyond notes: Improvisation in Western music of the eighteenth and nineteenth centuries (Turnhout: Brepols 2011, 295–316; RILM Abstracts of Music Literature 2011-15429).
Below, some historical versions of Lucia's cadenza.