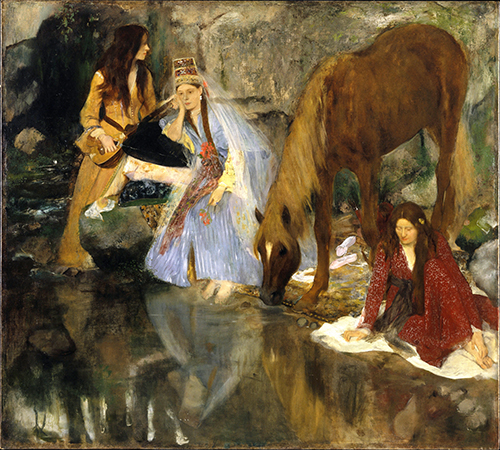 Four historic performances of Arthur Saint-Léon's ballet La source, spanning 150 years, illustrate how—through the sacrifice of a feminized nature—the work represented the biopolitics of sex and race, and the cosmopolitics of human and natural resources.
In 1866, when La source debuted, the public at the Paris Opéra may have been content to dream about its setting in the verdant Caucasus, its exotic Circassians, veiled Georgians, and powerful Khan. Yet the ballet's botany also played to a public thinking about ethnic and exotic others at the same time—and in the same ways—as they were thinking about plants.
Along with these stereotypes, with a flower promising hybridity in a green ecology, and the death of the embodied Source recuperated as a force for regeneration, the ballet can be read as a fable of science and the performance as its demonstration.
Programmed for the opening gala of the new Opéra, the Palais Garnier, in 1875 the ballet reflected not so much a timeless Orient as timely colonial policy and engineering in North Africa, the management of water and women.
Its 2011 reinvention at the Paris Opéra, following the adoption of new legislation banning the veil in public spaces, might have staged gender and climate justice in sync with the Arab Spring, but opted instead for luxury and dream.
Its 2014 reprise might have focused on decolonizing the stage or raising eco-consciousness, but it exemplified the greater urgency attached to Islamist threat rather than imminent climate catastrophe, missing the ballet's historic potential to make its audience think.
This according to One dead at the Paris Opera Ballet: La source 1866–2014 by Felicia M. McCarren (New York: Oxford University Press, 2020; RILM Abstracts of Music Literature 2020-54905).
Above, Eugénie Fiocre in La Source, depicted by Edgar Degas circa 1868; below, an excerpt from the 2011 production.