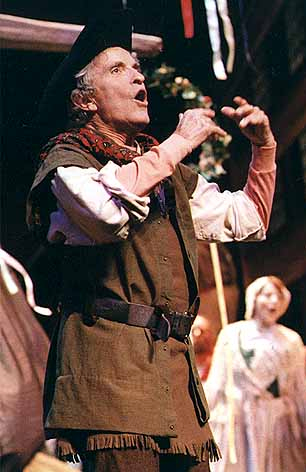 On Christmas Eve in 1920 John Meredith Langstaff was born into a music-filled home where a rousing, wassailing carol party was the peak of his family's year.
Half a century later, the Christmas Revels was born, a theatrical weaving of traditional song, dance, and drama that has become a beloved institution across the country.
From his years as a star choirboy (and notorious troublemaker) to his early career as a noted recital singer; from a daunting World War II injury to his work as recording artist, TV performer, teacher, and children's author, Langstaff fused his passions for music, ritual, and community to create the participatory celebration that is the Revels.
This according to The magic maker: A portrait of John Langstaff, creator of the Christmas Revels by Susan Cooper (Somerville: Candlewick Press, 2011; RILM Abstracts of Music Literature 2011-12592).
Today would have been Langstaff's 100th birthday! Above, Langstaff at the 1998 Revels (photo by Roger Ide); below, highlights from the 2004 Revels.
More Christmas-related posts are here.