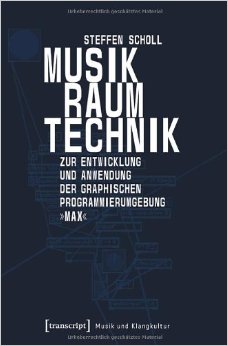 In 2014 transcript Verlag launched the series Musik und Klangkultur with Musik—Raum—Technik: Zur Entwicklung und Anwendung der graphischen Programmierumgebung Max.
The book discusses the visual programming language for music and multimedia known as Max. After over two decades of development and application, Max has become a sort of international lingua franca in practically-oriented music, art, and media institutions. A complete cultural-historical survey is presented, in which the software figures as the product of a specific sphere of aesthetic practice, which retroactively evokes innovative production structures. The focus of the analysis thus becomes the reciprocal influences of technological and artistic production.
Below, a demonstration of Percussa AudioCubes, an electronic musical instrument that allows users to create Max/Msp patches using an OSC server.