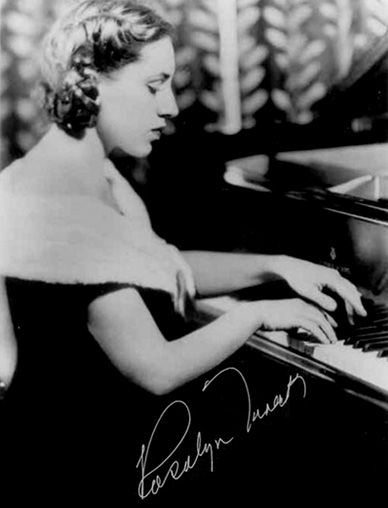 When Rosalyn Tureck was first studying piano, Bach's keyboard music was widely considered to be primarily didactic—good for training in pianistic skills, but too dry for the concert hall. Tureck, however, was fascinated with this repertoire, and started making a point of memorizing a prelude and fugue pair every week.
At the age of 16 she moved to New York City to study at Julliard, and immediately declared her interest in specializing in Bach. Her teachers there were encouraging, but others were not: at the Naumberg Competition, for example, she made it to the finals but the jury declined to give her the award because they were convinced that nobody could make a career out of playing Bach.
Tureck persevered, keeping her repertoire centered on Bach while continuing to pursue her interest in new music. In the 1950s she began to focus more exclusively on Bach, and in 1957 she moved to London, having found that European audiences were more eager for Bach programs than U.S. ones.
This according to "Rosalyn Tureck, pianist specializing in Bach, dies at 88" by Allan Kozinn (The New York times CLII/52,549 [19 July 2003] p. A:11).
Today is Tureck's 100th birthday! Below, the prelude and fugue in A minor, BWV 895, in 1962.