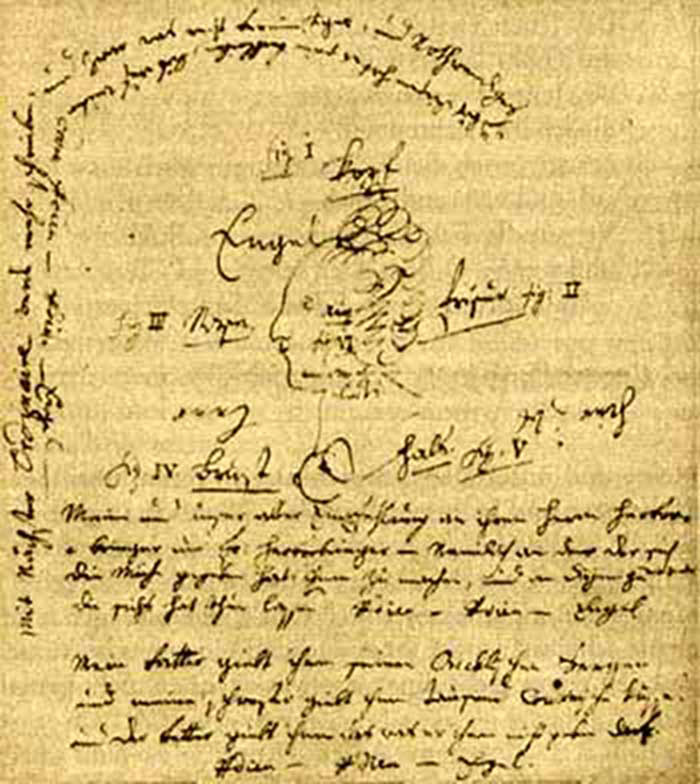 Mozart's wittiness is famously illuminated through many of his letters. Less known are his small humorous sketches, which appear here and there throughout his correspondence.
The sketches range from mysterious stick figures to bizarre caricatures; some are still riddles to scholars.
This according to "Mozart, der Zeichner" by Gabriele Ramsauer, an essay included in Mozart-Bilder–Bilder Mozarts: Ein Porträt zwischen Wunsch und Wirklichkeit (Salzburg: Pustet, 2013, pp. 25–28).
Above, a drawing at the top of a letter from Mozart to his cousin Maria Anna Thekla Mozart, known as Bäsle, dated 10 May 1780, titled Engel (Angel), with labels fig. I Kopf (head), fig. II Frißur (hairdo), fig. III Nasn (nose), fig. IV Brust (breast), fig. V Hals (throat), fig. VI Aug (eye); inscribed below VI: Hier ißt leer (Here is empty).
The full text of the letter (untranslated) is here; below, the finale of Mozart's Ein musikalischer Spaß, which ends with his celebrated foray into polytonality.