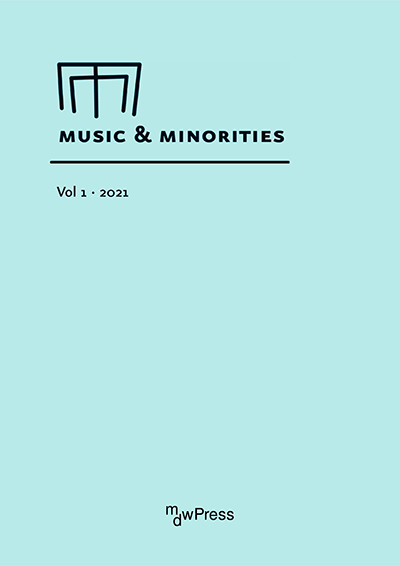 On 6 December 2021 the Music and Minorities Research Center at the Universität für Musik und darstellende Kunst Wien launched Music & minorities (M&M; ISSN: 2791-4569),
A peer-reviewed English-language, online-only, fee-free, diamond open access journal, M&M is dedicated to the scholarly exploration of the multi-dimensional field introduced by the concepts of music and minorities. It is published by mdwPress.
The journal is inclusive of music, dance, and other sound-based social phenomena. The term minority refers to communities, groups, or individuals that are at risk of discrimination on grounds of ethnicity, race, religion, language, gender, sexual orientation, disability, political opinion, displacement, social or economic deprivation, and their intersections.
Contributions to M&M may address all aspects of music and/or dance in the context of minorities. This may encompass aspects like genres of music and/or dance of certain minorities, societal discourses thereon, relationships between hegemonic and marginalized groups, depictions of minorities and/or their musical expressions in other contexts, or the meanings and values that are attributed to musical and other performing practices.
M&M encourages a diversity of approaches and methods, such as ethnography, theoretical reflection, historiography, or other forms of cultural criticism and social analysis. M&M is a forum for both foundational and engaged/applied research. The journal also welcomes interdisciplinary approaches.
Below, Dawood Sarkhosh, an Afghani singer/songwriter currently living in Vienna, is one of the musicians discussed in the inaugural issue.