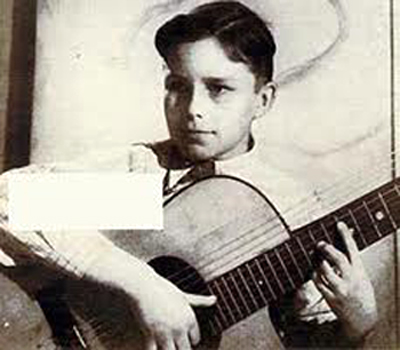 As a child, Bream first learned to play the guitar along with his father from "an extraordinary little book, and that was great fun."
When he was around 11 Boris Perrott, the president of the Philharmonic Society of Guitarists, heard him and, duly impressed, offered to teach him. The boy was honored, but soon found that he disliked the outmoded technique that Perrot insisted on.
Bream stopped the lessons and never took another one; instead, "I watched how Segovia did it and made up my technique as I went along."
"Actually, I think I must have been quite a little horror because I was very instinctive about things. I only did what I wanted to do. I didn't care a damn what other people wanted me to do."
This according to "Julian Bream at 60: An interview" by Gareth Walters (Guitar review 96 [winter 1994] pp. 2–15).
Today is Julian Bream's 80th birthday! Above, the guitarist in 1947; below, his arrangement of Danza del molinero from Manuel de Falla's El sombrero de tres picos.