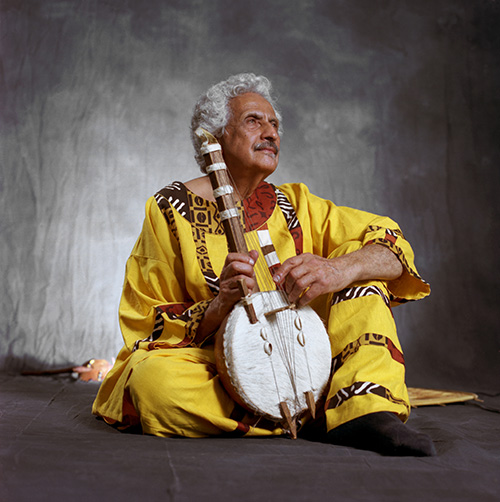 After earning a degree in agricultural engineering in Cairo, Halim El-Dabh traveled to outlying Egyptian villages to assist with agricultural development projects. During these visits he became increasingly drawn to traditional music and dance.
Fascinated by the possibilities of manipulating sound, he borrowed a wire recorder from a Cairo radio station and began recording folk songs, religious rites, and vendors' cries in the city's streets. The experience gave rise to an early electronic composition using his recording of the zaar, a traditional exorcism ritual, which he manipulated in the studio.
"I was carving sound," he told The Christian Science Monitor in 1974. "I used noise like I would a piece of stone".
That work, later released as Wire recorder piece, was well-received, and became one of the catalysts for El-Dabh's decision to pursue a career as a composer. In the late 1950s he became associated with the Columbia-Princeton Electronic Music Center, a hotbed of sonic ferment.
This according to "Halim El-Dabh, composer of Martha Graham ballets, dies at 96" by Margalit Fox (The New York times 8 September 2017; RILM Abstracts of Music Literature 2017-58630).
Today would have been El-Dabh's 100th birthday! Above, a photo by Robert Christy (Kent State University; used with permission); below, Leiyla and the poet, which brought him international recognition in the early 1960s.
BONUS: An excerpt from Wire recorder piece, often cited as the earliest example of musique concrete.