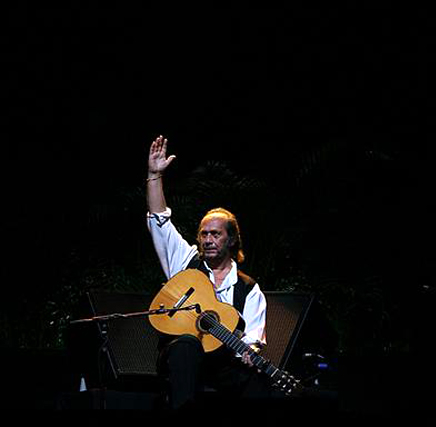 Flamenco purists may carp at Paco de Lucía's incorporation of classical, Afro-Cuban, and jazz elements into his music, but no one can deny his prodigious knowledge of flamenco's traditions or his ability to perform it like no other guitarist before him.
He insisted that all of his musical explorations and innovations are based on a solid commitment to flamenco tradition. "Everything I have heard has influenced me as a musician. But I have been careful about putting it in the music—my flamenco is not a fusion. I have always been careful that it doesn't lose the essence and the roots and the traditions of flamenco. I have incorporated other styles, but they have not altered the philosophy of my music."
This according to "Flamenco buena: Paco de Lucia's guitar sings" by Felix Contreras (JazzTimes XXXIV/6 [July–August 2004] p. 44).
Today would have been Paco de Lucía's 70th birthday! Below, performing in Carlos Saura's Flamenco, flamenco (2010).