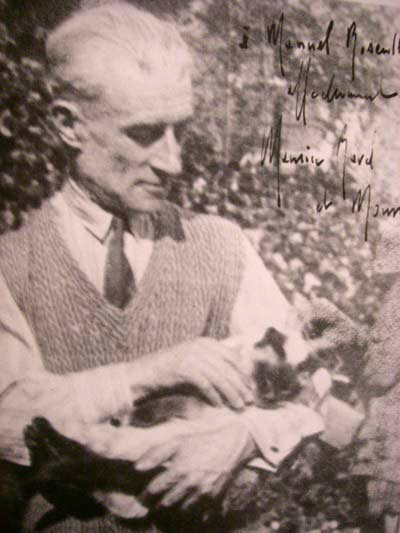 The roles and realizations of childhood in Ravel's music were inextricably linked with the language, traditions, and idioms of the literary fairytale—an idea that he himself supported when he wrote that his intention in his fairytale-based Ma mère l'Oye was to evoke "the poetry of childhood".
Ravel deliberately aligned his music with the traditions of the fairytale through the creation and expressive manipulation of musical and dramatic structure, language, gesture, and perspective. One may trace the voice and presence of the storyteller in Ma mère l'Oye, a work dedicated to two children for whom Ravel was a favorite companion and teller of fairytales.
This according to The language of enchantment: Childhood and fairytale in the music of Maurice Ravel by Emily Alison Kilpatrick, a dissertation accepted by Elder Conservatorium of Music at The University of Adelaide in 2008.
Today is Ravel's 140th birthday! Above, the composer with his cat Mouni; below, Edward Gardner directs the Radio Filharmonisch Orkest in Ma mère l'Oye.