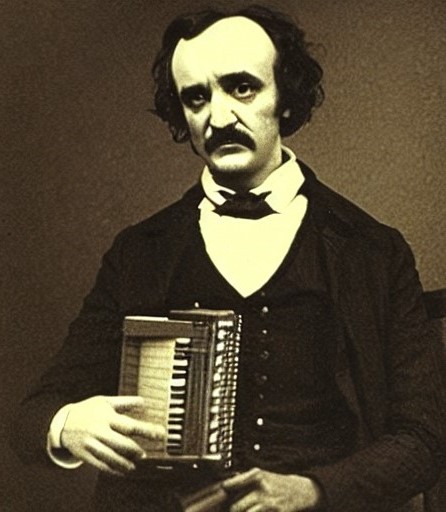 Joseph Holbrooke's The bells, op. 50(a), a "dramatic poem" scored for large orchestra and chorus and inspired by Edgar Allen Poe's poem by the same name, is highly onomatopoeic and describes the sound, function, and effect of four types of bells: sleigh bells, wedding bells, alarm bells, and funeral bells. A concertina is heard in two sections of the piece: the prelude (section 1) and Iron bells (section 5).
The composer, who had a "lifelong affection for concertinas", recalled how the instrument was almost cut from the work's 1906 premiere:
"While I was having my Poem for Orchestra and Chorus, The bells, performed in London under Hans Richter, the eminent conductor noticed that there was a part written for a concertina. 'Concertina! Concertina!' said Richter, 'What is that?' I explained to him that it was a peculiar instrument like a bellows, played by hand. 'We cannot have that' said Richter. 'There is no instrument like that here.' I found one, however, and Conductor Richter placed it away back where it could not possibly be heard. But at the concert I saw to it that the concertina player sat directly in front of the conductor."
This according to "The concertina and The bells" by Eric Matusewitch (Concertina world 488 [December 2021] 17–24). Below, the work's first movement.
More posts about concertinas are here.