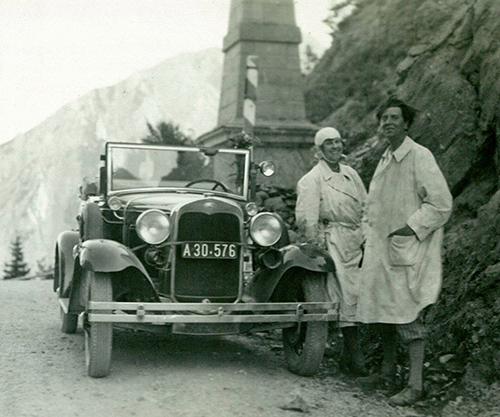 In 2013 Manfred Schmid was commissioned by the Alban Berg Stiftung to go to Carinthia and provide his expert opinion about the Model A Ford cabriolet (Gräf & Stift, type SR3) that had belonged to Alban and Helene Berg and had been sitting in the garage of their country house for decades. The Bergs bought the car new in 1930, but only drove it extensively for five years.
Schmid's mission was to bring the car to his repair shop, examine it thoroughly, and then restore it with utmost care—a lengthy and complex restoration process. The car, now polished to a high gloss, is on display in the Technischen Museum Wien.
This according to "Fast ein Märchen" by Manfred Schmid, an essay included in Alban Berg und der blaue Vogel: Eine Auto-Biographie (Göttingen: Vandenhoeck & Ruprecht, 217, 142–52; RILM Abstracts of Music Literature, 2017-61270).
Above, the composer, his wife Helene, and the Model A in September 1930; below, the restored Ford at the Technisches Museum. Lovers of Berg's music are advised to mute the video.
Related post: On the road with Prokof'ev