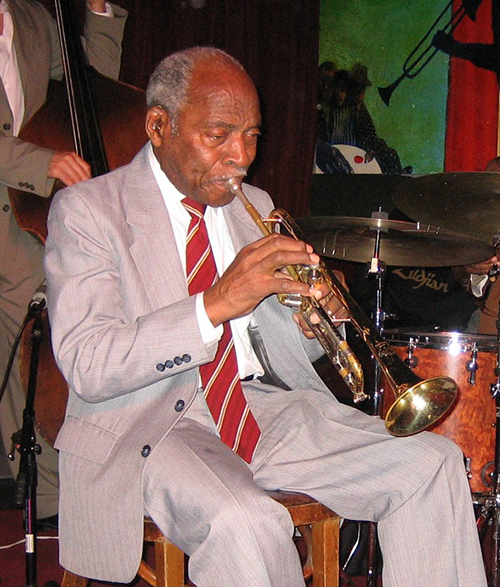 Distinguished for his achievements in both the jazz and classical worlds, Joe Wilder performed as lead trumpet and soloist with Lionel Hampton, Jimmy Lunceford, Dizzy Gillespie, and Count Basie.
He was also a pioneer who broke down racial barriers. Wilder was a founding member of the Symphony of the New World, the first racially integrated orchestra in the U.S., where he played first trumpet; the first African American to hold a principal chair in a Broadway show orchestra; and one of the first African Americans to join a major network studio orchestra
Wilder's modesty and ability to perform in many musical genres may have prevented him from achieving popular recognition, but his legacy and contributions to music and culture are far-reaching.
This according to Softly, with feeling: Joe Wilder and the breaking of barriers in American music by Edward Berger (Philadelphia: Temple University Press, 2014).
Today is Wilder's 100th birthday! Above, performing in 2006 (photo by Professor Bop, licensed under CC BY 2.0); below, playing the jazz standard Cherokee in 1956.