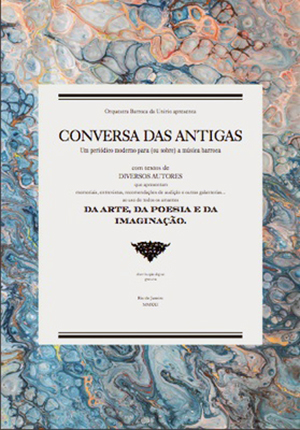 Launched in 2021, Conversa das antigas: Um periódico moderno para (ou sobre) a música barroca, a Brazilian periodical devoted to Baroque music, was born in the early days of the enforced COVID-19 quarantine.
Musicians of the Orquestra Barroca da Unirio decided to transform their virtual conversations, which kept them in touch and active during the quarantine, into something more formalized and more broadly accessible. Very soon, a vibrant virtual community of musicians, scholars, researchers, and teachers came together as a diverse editorial collective, and Conversa das antigas was launched.
The periodical showcases a variety of research subjects, works in progress, interpretative insights, manuscript studies, aesthetic issues, and everything and anything related to Baroque music. Its title, which could be rendered as "Old-style chat", conveys the informal vitality of the journal and its fluid boundaries, equally attuned to rigorous scholarship and experimental brain-storming. They clearly have a lot of conversas up their sleeves.
Below, the Orquestra Barroca da Unirio in action.