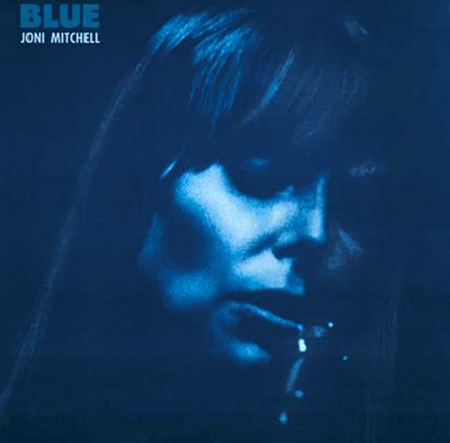 Joni Mitchell's 1971 album Blue is one of her most universally recognized works. Generations of people have come of age listening to it, inspired by the way it clarified their own difficult emotions, and critics and musicians admire the idiosyncratic virtuosity of its compositions. The largely autobiographical albums of what might be called Mitchell's Blue period lasted through the mid-1970s.
In 1970 Mitchell was living with Graham Nash in Laurel Canyon and had made a name for herself as a singer-songwriter notable for her soaring voice and skillful compositions. Soon, though, feeling hemmed in, she fled to the hippie community of Matala, Greece. Here and on further travels, her compositions were freshly inspired by the lands and people she encountered as well as by her own radically changing interior landscape.
After returning home to record Blue, Mitchell retreated to British Columbia, eventually reemerging as the leader of a successful jazz-rock group and turning outward in her songwriting toward social commentary. Finally, a stint with Bob Dylan's Rolling Thunder Revue and a pivotal meeting with a Tibetan lama prompted her return to personal songwriting, which resulted in her 1976 album Hejira.
Mitchell's Blue period featured her innovative manner of marrying lyrics to melody; her inventive, highly expressive chord progressions that achieved her signature blend of wonder and melancholy; her pioneering approach to personal songwriting; and her contributions to bringing a new literacy to the popular song.
This according to Will you take me as I am: Joni Mitchell's Blue period by Michelle Mercer (New York: Free Press, 2009; RILM Abstracts of Music Literature 2009-1442).
Blue is 50 years old today! Below, the full album.
Related article: Joni Mitchell and 1960s sexuality