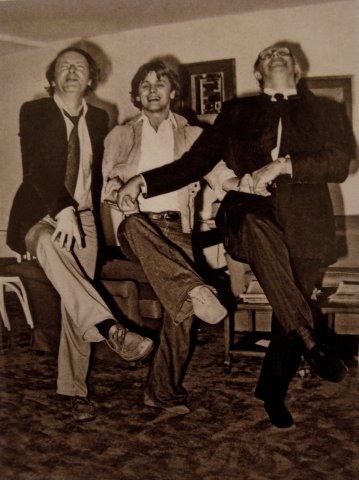 While Mstislav Rostropovič is widely remembered for his vast talents and fearless politics, his associates also knew him as a man of boundless high spirits.
As a conductor, he often hopped off the podium at the end of a performance and kissed and hugged every musician within reach.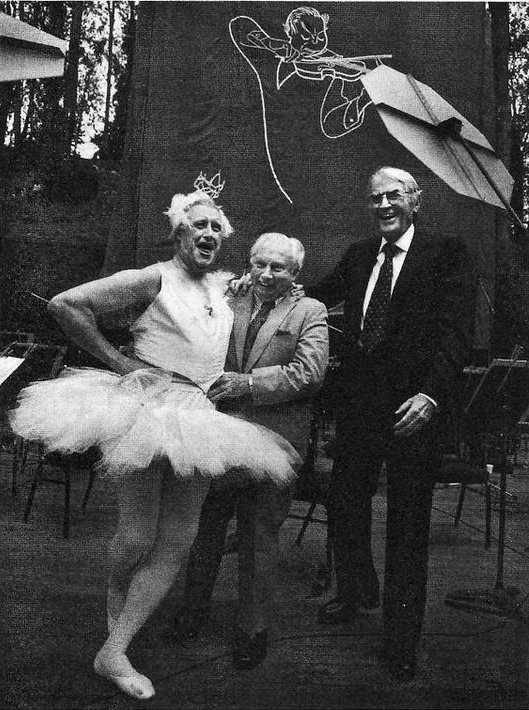 Notorious for his mischievous sense of humor, he sometimes surprised his accompanists by pasting centerfolds from men's magazines into the pages of their scores. At a 70th-birthday tribute to Isaac Stern, he performed Saint-Säens's Le cygne wearing white tights, a ballet tutu, a swanlike headdress, and red lipstick (inset, with Stern and Gregory Peck; click to enlarge).
This according to "Mstislav Rostropovich, 80, dissident maestro, dies" by Allan Kozinn (The New York times 28 April 2007, p. A1).
Today would have been Rostropovič's 90th birthday! Above, dancing with Joseph Brodsky and Mihail Baryšnikov; below, a high-spirited encore piece.