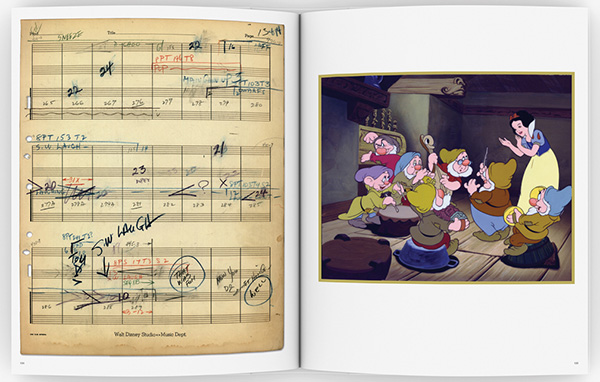 In 2015 Hal Leonard launched the series Disney music legacy libraries with Walt Disney's "Snow White and the seven dwarfs", a bound, glossy facsimile of the master score for the 1937 animated film Snow White and the seven dwarfs.
This 200-page MS guided the construction of the film's final mix of music, dialogue, and sound effects—in effect, it represents the entire soundtrack of the world's first full-length animated feature film.
Unlike many film studios, Disney has always saved its written and recorded music assets. Over almost 90 years, dating back to the earliest Mickey Mouse shorts and Silly symphonies, millions of pages of music have been preserved, most recently in climate-controlled conditions. Over a million of these documents have now been digitized, streamlining the time needed to find one from two weeks to three minutes.
Above, a two-page spread from the book (click to enlarge); below, Disney recalls making the film. More about the book series is here.