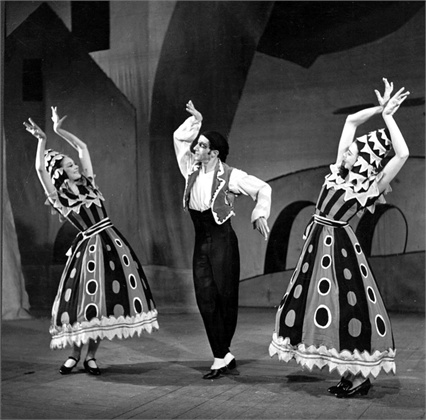 Manuel de Falla first visited the U.K. in May 1911, when he participated in a concert of Spanish music given by the pianist Franz Liebich. (The concert received tepid reviews and was little noticed.)
In 1919 the composer spent a month in London to prepare with Diaghilev's Ballets Russes for the premiere of his ballet El sombrero de tres picos; the performance took place to great acclaim on 22 July 1919. Unfortunately Falla had had to leave Britain the day before due to family matters, but several of the friendships formed during that sojourn were long-lasting, notably with his hostess, the Swedish soprano Louise Alvar, and with the composer and conductor Eugène Goossens.
In 1921 Falla stayed with Alvar and her husband again to play the piano in the British premiere of Noches en los jardines de España. He was back in London for a week in June 1927 for the U.K. premiere of his harpsichord concerto and to conduct the London Chamber Orchestra in El amor brujo and the London premiere of El retablo de maese Pedro. His last visit, in 1931, was for a BBC concert program of his music. The composer saw little of Britain outside London and had no English, but he enjoyed the British enthusiasm for his music.
This according to "Falla in Britain" by Chris Collins (The musical times CXLIV/1883 [summer 2003] pp. 33–48). This issue of The musical times, along with many others, is covered in our new RILM Abstracts of Music Literature with Full Text collection.
Today is Falla's 140th birthday! Above, Pablo Picasso's costumes and set for the 1919 premiere of El sombrero; below, a more recent London performance of the work.