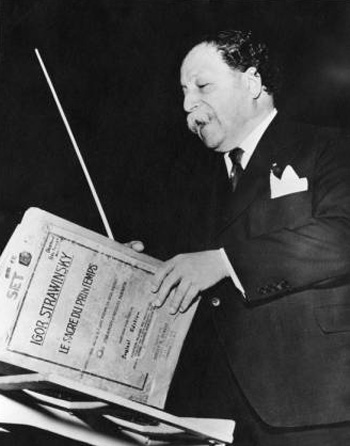 Launched in 2015, The Boston Symphony Orchestra Archives preserves the orchestra's rich history with documentation in the form of concert programs, press clippings, posters, photographs, letters, broadcast tapes, and recordings, as well as the BSO's collection of historic instruments.
Committed to making the collection more readily available to researchers, the BSO is in the process of building up its digital holdings, which can be accessed by anyone with an Internet connection.
A separate performance history site nicknamed HENRY (after the founder of the BSO, Henry Lee Higginson) contains all documented concerts of the orchestra beginning with 21 October 1881 through the current season. The search function provides access to the performance history of every work, and of all artists–conductors, ensembles, and soloists–who have performed with the orchestra.
Above, in a photograph from the Archives, Pierre Monteux rehearses Stravinsky's Le scare du printemps; below, Seiji Ozawa conducts the BSO in the finale of Bartók's Concerto for orchestra.